CURED: Valentine's Extravaganza Edition (Vol 5 Issue 5)
Good Morning Friends of Cured,
Happy February! It's hard to believe 2015 is already one month gone; we sincerely hope you had a wonderful January and start to the year! We certainly have. You know how much we love holidays here at Cured and February just to happens to bring us one of the best with Valentine's Day just around the corner. An entire day built around beautiful flowers, decadent chocolate, pink champagne and the person you love most…what's not to get excited about?!?! We have a few special somethings up our sleeve for next Saturday, and hope you'll be as excited about them as we are!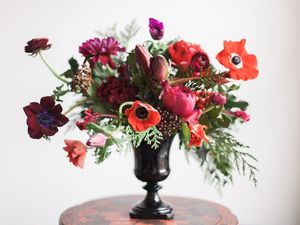 Prema Flower Pop-up. Some of you were lucky enough to meet Will's sister and pick up one of her otherworldly, absolutely stunning centerpieces the day before Christmas. We had so much fun having her in the shop, our front table bursting with beautiful colors, arrangements and smells, that we have been excitedly waiting for another excuse to have her back. And what better excuse than Valentine's Day! Frances will be with us from 1-6 on Valentines Day with an array of arrangements, ranging from $30-150, so there is guaranteed to be the perfect something for anybody on your list to pamper.  If you have something specific and special in mind, Frances is starting to take requests and you can email her at frances@premastyle.com for pre-orders.
Saturday Night Dinner. In my humble opinion, one of the worst parts about Valentines Day is the inevitable scene that ensues at any and every restaurant. You sit down for a quiet romantic dinner, only to see all of your closest friends and work colleagues, out for a similar "escape". Or worse, you decide to avoid the crowds and cook a romantic dinner at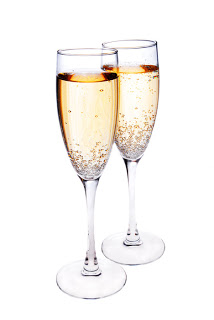 home, only to spend the day battling the Whole Foods parking lot and slaving away in the kitchen, only to be exhausted and frustrated by the time dinner rolls around. Not to fear, Cured is here to help! Our chef Rebecca is taking away the pressure and stress by volunteering her Saturday to cook up a veritable feast that will be hot out of the oven and ready to pick up at 5:30 on the 14th.  Begin your evening Delice de Bourgone Triple Crème Cheese and a bottle of Bubbles before moving on to our House Made Pappardelle with Lemon Cream Sauce and Capers. For your main, we have "Love Birds": Two House Sausage Stuffed Cornish Game Hens roasted with Duck Fat and Fresh Herbs served along side a salad of Shaved Fennel with Citrus, Pomegranate and Winter Greens with a Citron Vinaigrette. We even have a Box of Black Star Handmade Truffles for dessert! Dinner for two costs $85 and reservations fill up fast, so call today to reserve yours.  Will is planning a special wine tasting at pick-up time with additional suggestions as well, and it will be one not to miss!  We're also offering a 15% off Champagne Sale all day!
Black Star Truffle Tasting. We have one final treat lined up for you next Saturday that comes in the form of a truffle tasting from our friends over at Black Star. Black Star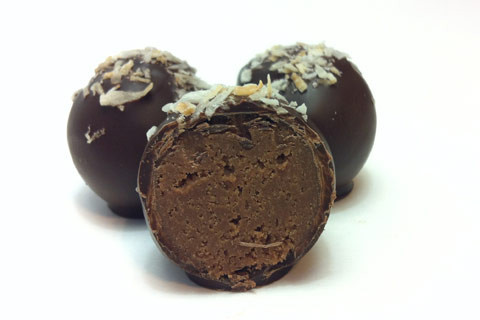 Chocolates is the brainchild of Jennifer Spielman and Andrew Starr. As coworkers at the National Center for Voice and Speech, Jennifer and Andrew quickly bonded over a love of food, music, travel and insubordination. And then chocolate happened. After discovering that they each created their own complicated batches of chocolate as holiday gifts, the pair joked about their future as professional chocolatiers. Joking turned into ambition as the need to share their love of chocolate with others took root. In August of 2010, Black Star Chocolates was born. These two creative genius' hand make some absolutely stunning truffles using the best ingredients to create the most addicting and innovative of flavor combinations. From the classic Salted Caramel to Saffron Rose Cream to Bourbon Grapefruit, I have yet to meet a Black Star Chocolate I have not loved.  Andrew will be with us tasting his truffles with a stock of beautiful boxes you can bring home from 1-4 on Saturday.   If you're signed up for the dinner, your truffle stock is already covered!
Excited for the 14th yet?! We certainly are. In the meantime, don't forget that Brad isrolling out fresh handmade pasta tomorrow morning. This week he's making Agnolotti with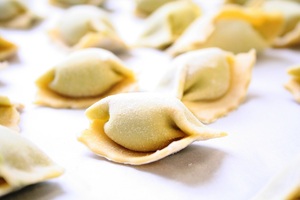 Butternut Squash, Mascarpone, and a Balsamic Reduction. As a quick side note, since this newsletter is essentially a compilation of all the things we love and eat, I have to share that I have discovered the best, and easiest, any day of the week dinner in Brad's pasta. Each Wednesday, we bring home 2 batches of fresh pasta, one to be devoured that evening, the other to be tucked in our freezer and pulled out any day we're feeling uninspired to make a trip to the grocery store or cook up something complicated. They freeze brilliantly and make such a perfect, easy meal; even Holden looks forward to it! We've started making extras each week and keeping a stash frozen at the shop as well, with the goal of making any night an  easy "Pasta Wednesday".
That's all for today friends! Enjoy this most beautiful of February days before the snow scheduled to hit tomorrow, and don't forget to come on by for tonight's FREE wine tasting from 4-7.   We're focusing on a different country each week this month, highlighting Italy this and next week with some of our current favorites from around the country.
Will + Coral
---