CURED: The Valentine's Day Edition (Vol. 6 Issue 6)
Good Morning Friends of Cured,
Happy beautiful Tuesday!! We hope you all enjoyed the glorious weekend and the spectacular football game on Sunday. We personally enjoyed a whole lotta Colorado craft brews rather than Budweiser, but it was an awesome game none the less!! Hard to believe that February is already almost half over which means that Valentine's Day is almost upon us!! Most of you know by now how much we love a holiday and Valentine's Day is no exception. An entire day focused on the people you love most, chocolate, Champagne and triple creme cheeses?! Yes please!!! We've dreamed up a couple special treats for you and you this year that we certainly hope you'll love as much as we do!!

Valentine's Day Dinner: Love Birds Special!! Rather than stressing over dinner reservations, over-priced prosecco, downtown parking, or spending the day cooking in the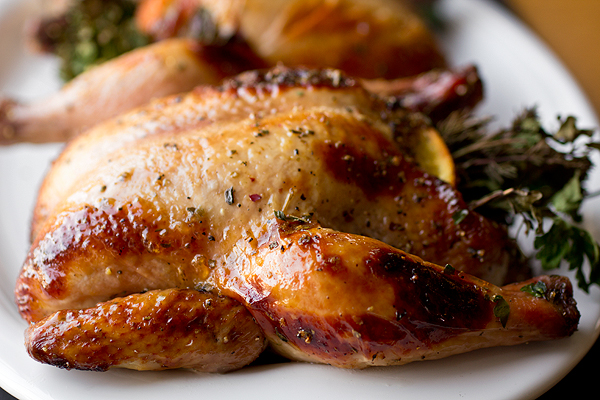 kitchen, let our chefs treat you to a delicious, indulgent, decadent dinner for two, hot out of the oven and ready to be picked up Sunday at 4:45. That way all you have to do it head on home, light a few candles, pop open your bottle of bubbles, and enjoy your Love Bird feast.   Dinner costs $95 and includes: Twin Roasted Cornish Game Hens Stuffed with House Made Sausage, served with a salad of Oxford Garden Greens with Roast Beets, Toasted Hazelnuts, House Made Ricotta Salata and Pomegranate Vinaigrette. A luscious slice of Delice de Borgogne (triple creme) with Cured's House Baguette rounds out your meal before you dig into a guilty Mexican Chocolate Pot de Creme to finish it off! Plus, we've even included a bottle of the Val de Mer Brut Rose Bubbly with which to toast the one you love.
Cured's Valentine's Gift Box: Nothing says 'I Love You' like meat and cheese! Rather than a dozen red roses and a heart shaped box of chocolates, for Valentine's Day this year, give your mother, father, brother or lover, something with thought, sentiment, and a little bit of fat. We've spent many grueling hours over the last two weeks scheming, tasting and curating the perfect gift boxes (each available for $85) for the special someones in your life so that you don't have to stress.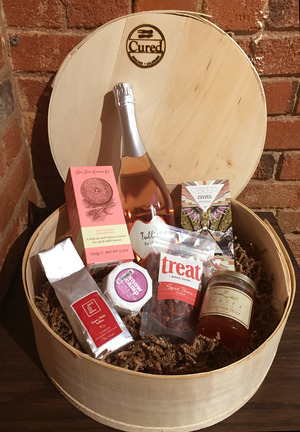 For the Ladies: Nothing will make her heart melt like a large wooden cheese box laden with all her favorite goodies: A bottle of the Tullia rose prosecco, A bag of Poco Dolce Chile Toffee Squares, Fine Cheese Company's Natural Butter Crackers, Compartes Gatsby Bar (dark chocolate with a decadent layer of liquid salted caramel inside!) Frasca's Red Pepper Jelly, A luscious round of the Snow Camp Cheese, and a bag of Treat's Spiced Pecans to round it out!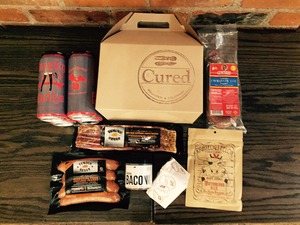 For the Gents: Everything his heart desires, and more. This carnivorous box is packed full with Skillet's Bacon Jam, Tender Belly's Cherrywood Smoked Bacon and Berkshire Pork Belly Franks, a pack of the Righteous Fellon's Beef Jerkey, an entire stick of the Palacios Choirzo, a big ol chunk of Cabot's Clothbound Cheddar, and a 4-pack of Crystal Spring's Naughty Marilyn Belgian Tripel. It's so good he'll think he was stuck by cupid in pig's clothing.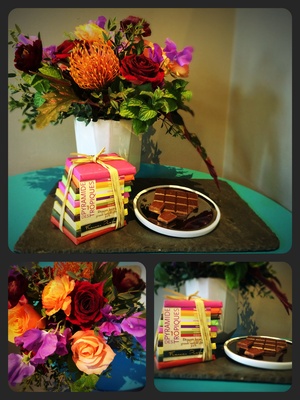 Epic amounts of Chocolate: Even if you already have dinner plans, or your loved one is gluten free and doesn't eat dairy, fear not, we're still here for you! In my humble opinion, we have built the most inspiring, indulgent, and epic collection of small, unique and utterly delicious chocolates in our little shop. We have everything from  single origin bean-to-bar chocolates to geek out on to guilty, indulgent bars topped with butter toffee or filled with liquid caramel, to local hand made truffles and chocolate covered caramels to boot! Whatever your whim and fancy, pop into the shop this week and let our mongers help select the perfect bar (or two or ten!) to enjoy this Sunday.
Cured West / Fawns Leap Chocolate and Flower Special. The only thing better than epic amount of chocolate? Epic amounts of chocolate and a beautiful bouquet of flowers. We're taking advantage of our beautiful roommate on the West End to offer you the $100 one-stop shop Valentine's Day special, at the West location only! A stunning bouquet of unique flowers paired with a collection of 8 different single origin chocolate bars from master chocolate make Francoise Pralus is guaranteed to melt her heart (and yours if she'll share!)
That's all for today my friends!! Don't forget that Brad is making fresh, hand rolled pasta on Wednesday, Tortelletti with Pancetta, Spinach and House Ricotta ($19) to be exact. Thursday brings us freshly roasted chickens and duck fat mashed potatoes, hot out of the oven at 5:30 and Sunday is our Love Bird Feast! Give the shop to reserve any, or every, one of these dinners today!
Enjoy this absolutely beautiful day, take a moment or two to sit own the sun and dream of the picnic season ahead (tomorrow??), and come pay us a visit if you need help curing your Valentine's Day stresses this year!
Coral + Will
---