CURED: The Thanksgiving Edition (Vol. 5 Issue 46)
Good Morning Friends of Cured,
Happy almost Thanksgiving!!! We hope you are all enjoying these few blissfully beautiful days, whether in town with all the friends and family who are starting to trickle in, or off on an adventure, wherever this delicious holiday may take you! We could not be having much more fun with all the hustle and bustle in the shop(s!) this week, watching people fall in love with new cheeses, find the perfect salami, and indulge in goodies to share on Thursday with their closest friends and family. We wanted to take a quick moment to give thanks to each and every one of you for sharing our passion for the divine nature of food! We would not be here without your support and we cannot possibly express our gratitude for the kindness you have shown us over the last four years (and almost 3 weeks at our new little West shop!) So while you are spending this week devouring delicious bite after bite and sip after sip, know how thankful we are for you. You and triple creme cheeses obviously…

We know how busy you are grocery shopping, menu planning and table decorating this week, so we don't want to take up too much of your time, but we have a few special treats we brought into the shop this week that are just too good not to share.
Cremeux des Citeaux Truffes: The only way to make a triple creme better? Add a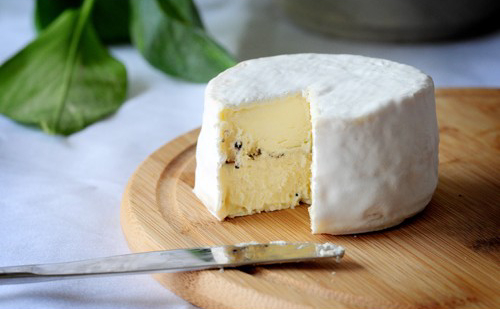 luscious layer of black truffles and put it into the hands of one of the foremost Affineurs in the world who luckily imports his cheeses to the good ol US of A. Selected by and developed for Rodolphe Le Meunier, master Affineur, from a cheesemaker in Burgundy, this exquisite triple creme has a significant line of real black truffles running through the center. These came into the shop in PERFECT condition last week and it is taking all of our will power to not devour one a day.  The rind development is perfect, delicate and bloomy with subtle mushroom notes that play perfectly with the earthy richness of the black truffles. They just beg for a glass of a rich, toasty Champagne and a reason to enjoy bite after bite paired with sip after sip!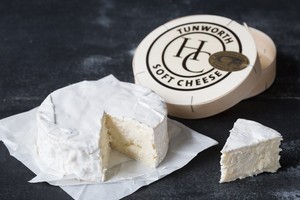 Speaking of decadent cheeses, we also have another special treat of a softie in our case this week – Tunworth from Neals Yard Dairy.Made in England by an ex-cheesemonger from Sydney, this perfect little round is modeled after a traditional French camembert and does its heritage proud in a perfectly balanced, creamy, funky flavor. With some pretty impressive awards including 'Supreme Champion' at the British Cheese Awards and Gold Medal at the World Cheese Awards, we are quite excited to have this little gem in our shop and excited to share it with you while supplies last.
Charcuterie Platter Pre-orders. We loved it when well over a month ago someone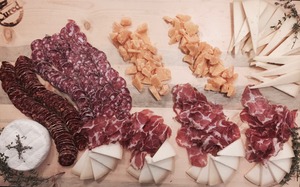 placed the first platter order and bread reserve to be picked up on Wednesday, wrapped up, easy, and ready to be served to hungry guests on Thanksgiving day. Talk about pre-planning!! Since then orders have been piling in, and while we are just about maxed out,  we still have a few more platters up our sleeve on Wednesday. So if you are searching for an easy appetizer, something beautiful and decadent to nibble on tomorrow evening for an easy snack, or while the Turkey finishes cooking and the stuffing crisps to perfection on Thursday, give us a call today so we can customize something perfect for you to pick up on Wednesday.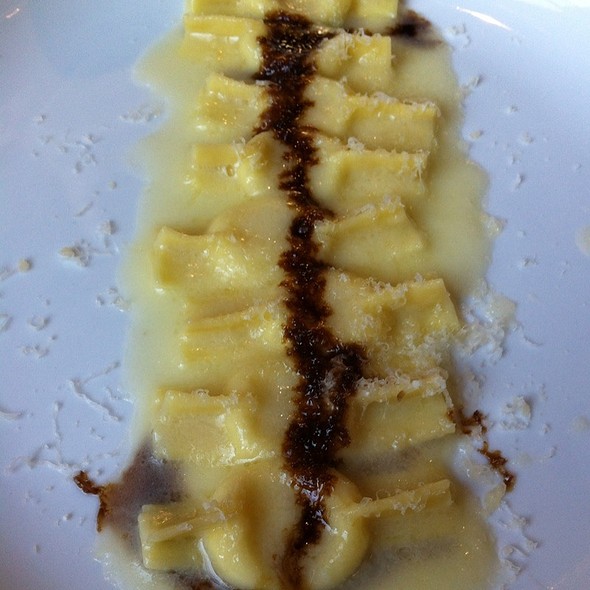 Which reminds me, we will be open today and tomorrow as usual, 10:30-7, but will be closed on Thanksgiving day. We will be back open as usual on Friday, excited for the weekend ahead! Brad will still be in the shop on tomorrow morning rolling out fresh pasta, a Taleggio Scarpinocc with Walnut Pesto. It's one of the most complicated shapes with the most simple, pure, delicious flavors. Scarpinocc is incredibly difficult to make, but well worth the effort! The scarpinocc look like shallow bowls, or deeper plates, with handles on either end.  This creates a tiny well in which the sauce or topping can rest, yet not overpower the pasta itself! Give us a call today to pre-order!
Thats all for today my friends! Will will be leading an extra special wine tasting in the shop from 4-7 tonight, tasting our Thanksgiving 4-Pack – 4 wines chosen to take you through the evening, pairing with all the various flavors and textures you are bound to encounter. Enjoy yet another beautiful sunny day and we look forward to seeing you all in the shop soon!
Coral + Will