CURED: The Truffle Edition (Vol. 5 Issue 45)
Good Morning Friends of Cured,
We hope you all enjoyed the absolutely glorious weekend and survived the 'epic' snowstorm that clobbered Boulder last night. Even if we didn't get the foot of snow they were calling for, it did feel good to curl up inside while the rain fell down and make a big ol' pot of fondue to welcome in the cooling weather. Holiday cheeses are staring to land here at Cured and I must say, there are some truly other worldly treasures tucked into our case now, with many more to come. The best part? It will only continue to get better!

As we close in on Thanksgiving and the weather outside reminds us that the holiday season is upon us, we cant help but get excited for all the decadent indulgences that lie ahead. Such as…Truffle season!! 
That's right folks, we could not be more excited to announce that we are going to be ordering our first shipment of fresh truffles this week. As in years past, we are working with the top importer in the country and will be shipping in fresh black (from Perigord in France) and white (from Alba in Italy) truffles every week until the season comes to an end. Orders for truffles must be placed by Wednesday at 4 pm for a Friday afternoon arrival of these heavenly, pungent, beautifully-ugly little gems. Prices for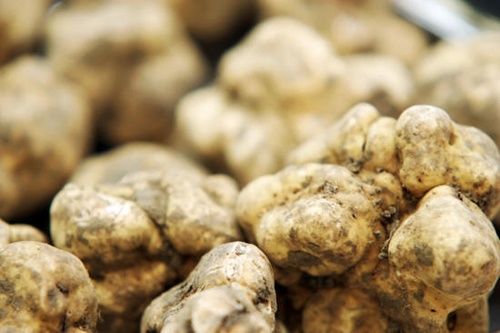 this first round are starting at $4.5/gram for the black truffles (sizes ranging between 30-50 grams per truffle) and $10.50/gram for the white (sizes ranging between 20-80 grams per truffle). We recommend 7 grams per person per course, shaved delicately on top of whatever dish you choose. We do have a handful of truffle shavers available to borrow ($70 deposit), first come, first serve.  Personally, we find it hard to beat a big ol' pile of freshly made pasta with a little butter and sea salt or a bowl of delicately seasoned Risotto with RarmReg and EVOO, but honestly just about anything you shave a truffle on top of is going to be made infinitely better! Which reminds me, we are also offering a special Truffle Feast for this Friday Night Dinner, that is decadent in its own right, but begs to be taken to a whole other level by adding a white truffle to finish it off. We only have 2 reservations remaining for our dinner which consists of Leek Risotto with Black Truffle Butter (to be finished on the stovetop at home, and an option to buy a White Truffle to shave decadently on top), 2 Cornish Game Hens Roasted with Black Truffle Butter, Slow Roasted Sunchokes with Prosciutto Lardons, Cured Egg Yolk and Truffle Pecorino, a Bitter Green Salad with Walnuts, Fresh Herbs and Muddled Pear Vinaigrette and a Chocolate Pot de Creme to finish off the feast! Dinner for two costs $85 and will be ready to pick up at 5:30 on Friday night. As mentioned, only two dinners remain so call asap to reserve yours today! 
Cure Farm Thanksgiving Box: It's hard to believe that Thanksgiving is next week!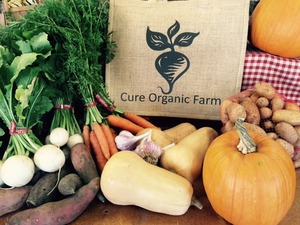 Maybe it's the opening of a new shop, but it feels like it snuck up on us this year! I'm sure most of you are better prepared than us and have been planning your menu for weeks, but for those of you who haven't, or for those of you with a little flexibility in your meal planning, we're excited to offer a very cool "Thanksgiving Box" from our friends at Cure Farm. For $79, you get the best of the best, all organic, farm grown, hand harvested vegetables that you need to make your Thanksgiving complete. 5# carrots, 5# potatoes, 2# sweet potatoes, 3 garlic heads, 2# turnips, 3 butternut squash, and 3 pie pumpkins! Boxes will be waiting for pick-up on Tuesday the 24th, so you can take them home and work your magic on them, transforming the ingredients into your delectable meal. We only have 20 boxes available so call the shop to reserve yours soon!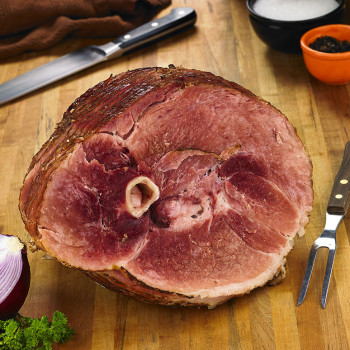 Tender Belly Holiday Hams: We know Turkey gets all the credit this time of year, but allthe Turkeys we've come across are thankful to our friends over at Tender Belly for releasing their oh so delicious, mouthwatering, moist, spiral cut hams for those of you who feel like living on the edge this Thanksgiving. 100% Berkshire, naturally cured, spiral cut, these hams are unlike anything you have had before. Pre-glazed with a sweet honey glaze and wrapped in foil, all you have to do is toss it in the oven, warm it to your desired temperature, and try to keep yourself from eating the entire thing. Hams are $12.5 a pound and are available as halves (8-10 lbs) or wholes (16-20lbs) and must be pre-ordered by Monday for a Wednesday morning pick-up. We will have one cut up for tasting on Saturday at the East shop, so you can sample just how scrumptious these little spiral cut jewels are! 
Just a reminder that we have our Free Tuesday Night Wine Tasting from 4-7 tonight, featuring our new house Prosecco and 3 amazing Dolcettos, and Wednesday brings us fresh hand rolled pasta, Parpadelle with Braised Oxtail Ragu to be exact. Thursday night we have freshly roasted chickens with duck fat mashed potatoes hot out of the oven at 5:30 and Friday Night is our Truffle Feast (Or your own truffle feast if you order yourself a truffle!).
Stay warm on this chilly day (Cured West has two amazing soups and bone broth today if you need warming up) and we hope to see you all in the shop soon!
Coral + Will