CURED: The Tour de France Edition (Vol 5 Issue 25)
Good Morning Friends of Cured,
Happy last day of June! We are officially smack dab in the midddle of summer with balmy evenings, afternoon rain storms, and an IV drip of chilled rose to prove it! We hope you all have something fun and festive up your sleeve for the 4th of July…maybe a platter or Artisanal AMERICAN meats and cheeses to enjoy alongside some Colorado Craft Brew for example? Or a watermelon-mint-feta salad and grilled corn slathered with Empire Mayo Co Bacon Mayonnaise? Just a few of the things on our list for this  year's Fourth of July Celebration. As a reminder, we will be CLOSED on Saturday the 4th to celebrate in our back yard with all the hard working Cured employees, but we will be OPEN for you to stock up on goodies Friday the 3rd till 7 and Sunday the 5th at 11 am.
The 4th also marks another special day in our hearts, the 102nd annual Tour de France, the most spectacular sporting event in which lycra clad racers make their way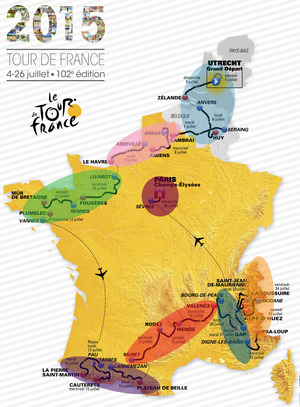 around the beautiful country of France, up awe inspiring passes and through endless fields of lavender, beating up their little bodies and inspiring at least me to sit back, relax, and enjoy the show! As many of you know from years past, each year since opening we have put together a little Tour of our own, one that is a bit more accessible to the mere mortal. Specially curated by my handsome husband and ex Tour de France rider, all you need to partake is a love of cheese, a passion for French wine, and a good appetite.
Will breaks the Tour into eight stages, each corresponding to 3-4 days of racing.  Each region corresponds with a cheese and a beverage. As the riders make their way around France you'll follow along, feeling thankful that while they're suffering through the hills you're enjoying cheese, wine, and entertainment from the comfort of your own home.
Each stage, available individually for $40 or as part of the whole package for $295, comes with a chunk of cheese and a beverage to pair.  While mostly wine, we'll also have an exceptional beer and even a bottle of calvados this year, paying homage to the route that the organizers chose for this 102nd edition of the TdF. Participants in our entire tour will receive a Team Garmin Cannondale musette bag filled with Will's favorite cycling ride and recovery snacks to say congratulations for all your hard work.  This year's tour is available for pickup at Cured, or for $90, each week, a box will be waiting on your doorstep with that week's stages. Call the shop at 720.389.8096 to purchase your Tour and visit our website to learn more and read about the individual stages. SINCE WE WILL BE CLOSED ON JULY 4TH, FIRST STAGE PICKUP IS FRIDAY JULY 3!!
Upcoming Events: Not only will our days be filled eating cheese, drinking wine and watching amazing athletes circumnavigate France, but Cured has a few delicious eventsup its sleeve next week as well. The first is the inaugural Colorado Music Festival Mash-Up. For those of you who are unfamiliar, the Music Mash-Up Concert & Party Series features "mash-ups" of different music genres, including rock, indie, jazz, folk, and classical in unique and beautiful arrangements, all with the Colorado Music Festival Orchestra. Each concert is preceded by a guided hike at Chautauqua park and a mixer featuring food and drink samples from local restaurants, breweries, coffee shops, and more (ahem, Cured). Next Tuesday, July 7th, is the Bartók + Björk mash-up, where 

conductor/composer Steve Hackman presents an original composition synthesizing Bartók's 20th-century masterpiece, Concerto for Orchestra, with Björk's first three albums. Featuring the Colorado Music Festival Orchestra and guest vocalists, Steve Hackman will present an evening of music that explores the technically superb compositions and extremes of emotion common among both artists' work. We personally can't think of a much better way to spend a Tuesday, and if you agree, visit the Colorado Music Festival's website to buy tickets!
The next event is the Sineann Wine Dinner at Blackbelly. One of our favorite wine makers pouring wine at one of our favorite restaurants?! Yes Please! Next Thursday, July 9th, Peter from Sineann Winery (an amazing producer from the Willamette Valley in Oregon) is teaming up with our friends at Blackbelly for a 5 course wine dinner. If you love the wines as much as we do, Cured will be offering special order on all the wines you enjoy throughout the evening at a killer price. Dinner goes from 6:30-9:00 and costs $95/person. Seating is limited so call Blackbelly at 303-247-1000 for reservations today.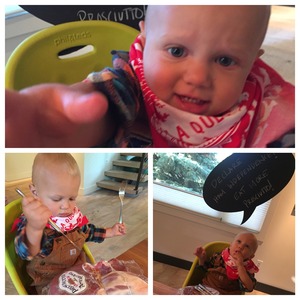 On one final note, Cured is excited to once again be participating in the Ham Independence Day contest hosted by La Quercia, the premier, utterly addicting and delicious producer of American Heritage Breed Prosciutto out of Iowa. Holden has really pulled out all the stops this year, and we don't want him to have his feelings hurt by loosing, so PLEASE take 2 minutes, follow this link, and show Holden your support for how well he hammed it up!! 😉 
As always tomorrow Brad will be in the shop at 6am, rolling out fresh pasta dough for his incredible hand made pastas. This week he's making roasted beet, lemon zest, mascarpone and fresh mint agnolotti which sound too good to be true. Then on Thursday we'll have our freshly roasted chickens with duck fat mashed potatoes hot out of the oven at 5:30! 
Enjoy your 4th of July and look forward to seeing you all in the shop soon!
Will + Coral