CURED: The Tasty Treats Edition (Vol 5 Issue 7)
Good Morning Friends of Cured,
What a perfectly gorgeous February WINTER morning it is! Quite a beautiful juxtaposition to the 60+ degree-days of the past week, that's for certain! We hope you're all staying safe on the roads and taking full advantage of the opportunity to curl up inside, light a fire, put down the rose that has been so quaffable these past weeks, and pop open a big, guilty, juicy bottle of red wine to accompany a something hearty and slow cooked. That's how we spent our Monday!
We've had so many specials and events going on these past few weeks, that we haven't had the opportunity to share with you some of the amazing, inspiring, and down right delicious new additions to the Cured shelves. So for the next few weeks, I couldn't be more excited to talk about some of our favorite new products here at Cured.
Ozuké Umeboshi plums and cherries.  For those of you who don't know, Ozuké is a local company, started by our friend Willow King and her partner Mara. Mara and Willow are probiotic pickleteers so to speak. They started making live, raw krauts and kim-chis in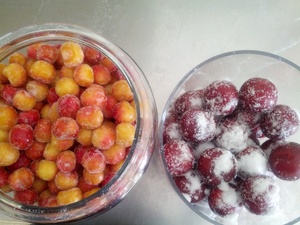 their home kitchen to enjoy with their families and friends. The results were so outrageously delicious that they instigated a magic carpet ride from home kitchen to dedicated factory, 7 full time employees and a pet forklift named King Tub. This winter, all their hard work was recognized with a Good Food Award for their utterly unique and addictive umeboshi plums and cherries. We have been lucky enough to sell their goodies since we first opened here at Cured, and could not be more excited for their latest venture into Umeboshi, a classic East Asian fruit treat. The plums (and cherries!) are lacto fermented and a vital healing food, traditionally used to boost immunity, treat tummyaches and soothe motion sickness. They can be nibbled as a tasty snack, served over rice, chopped into tea or served along side steamed fish and vegetables. Use them to season a roast, enhance a sauce, or add a very non-Mediterranean umami blast to just about anything you can imagine. We'll have them on our shelves until we (and they!) run out, so if you're as intrigued as we were, come on by and pick up a jar to try!
Cure Organic Farm Mangalitsa Pork at Cured!! Now there's a mouthful for you! Feeling confused?  Allow me to explain. Our friends, Paul and Ann Cure, the ever kind and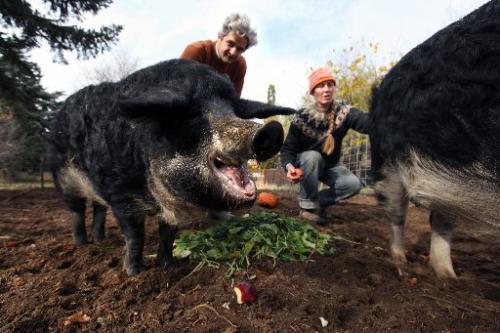 brilliant farmers who own Cure Organic Farm out on east Valmont raise Mangalitsa Pigs. Some of you may have been lucky enough to enjoy their deliciously fatty, indulgent pork in some of our Friday Night dinners past, but for those who haven't, you're in for a treat. Cure Farm has been raising purebred Swallowbellied Mangalitsa since 2008. They are raised on an open pasture with a diet of arugula, brussel sprouts, parsnips and kale. Mangalitsa's just so happen to have the highest amount of unsaturated fat of any breed. What does that mean? That the bacon is good for you. Yes, it's true, you read that correctly. Tucked inside our freezer at the front of the store, we have several types of sausage including breakfast sausage and an Italian sausage, as well as pure, delicious, unadulterated pork belly that quite literally melts in your mouth. We'll be getting whole cuts of meat in the next couple of days, even a whole side, so don't forget to check back in over the next few weeks to see what we have!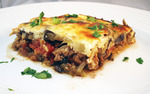 Friday Night Dinner and Wednesday Night Pasta! Now that Valentine's Day is over, we're already on to our next Friday night feast.  Rebecca will be playing with some funflavors this round, whipping up Lamb and Chickpea Moussaka with Harissa and Goat Béchamel, Tahini Roasted Cauliflower with Lemon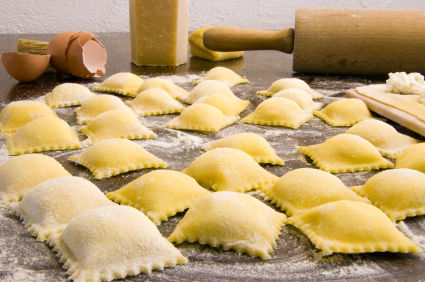 and Capers, and Warm Whipped Feta with Chorizo, olive and a fresh Baguette. Dinner for two only costs $39 and, as always, tends to sell out quickly.  Give us a shout today to get your name on the list! Brad is also whipping up a pretty incredible sounding pasta this week: ravioli with artichoke hearts, Cured's fresh, house made ricotta, lemon and thyme. Yum! And as long as we're talking easy dinners, don't forget that this, and every Thursday, we have freshly roasted chickens with duck fat mashed potatoes hot out of the oven at 5:30!
I think that's all for today friends! We have warm soup, grilled cheese and endless bottles of red wine if you need a little tummy-warming pick-me-up from all the snow. Look forward to seeing you all in the shop soon!
Will + Coral