CURED: The Summer's Bounty Edition (Vol. 5 Issue 36)
Good Morning Friends of Cured,
Another beautiful morning it is! We hope you all enjoyed the weekend, unexpectedly hot as it was! We certainly did. We keep waiting for that chill to enter the air that signals the start to soup season, but in the meantime we're enjoying as many Burrata plates and glasses of rose as we can handle! We have a couple of tantalizing new treats for you this week that we couldn't be much more excited to share!

Soma Chocolate: As most of you have realized by now, Will and I have a rather serious addiction to chocolate. I know, you thought we were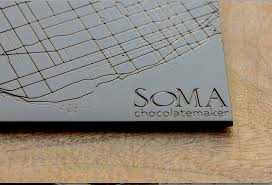 only about the cheese, meat and wine, but if you look closely the third largest 'department' in our little shop just so happens to be the oh so wonderful, ever enticing, always intriguing, key to our hearts: Chocolate. Within our ever expanding line up of decadent sweet treats, SOMA, a bean to bar chocolatier from Toronto, Canada has managed to secure its place solidly in our hearts, and bellies, over the last few years. Willmight even say that if he could only have one chocolatier for the rest of his life, SOMA would be it.  Started by a husband and wife team in 2003, SOMA has one simple goal: finding new ways to create and enjoy chocolate. They took over a corner of a former whiskey distillery and started off roasting and winnowing cacao beans, refining and conching their our own chocolate, spinning gelato, baking cookies, making hot chocolates, and producing a line of truffles. (whew!) What makes SOMA so delicious and unique is their attention and dedication to the highest quality, pure chocolate. This incredible chocolate acts as a base to all of their bars and confections, allowing them to make a rather epic line of single origin, small batch chocolates, in addition to more whimsical, unique creations. Much like wine, every cacao bean has a unique personality (beans from different regions and growing seasons vary). At each step in the process, SOMA's goal is to coax out all the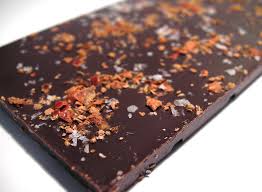 beautiful and interesting notes each source of cacao has to offer. This involves a whole lot of tasting and trying….hmmm…I think I may have just found my true calling… They make a 100% Arcana chocolate that redefines what 100% pure chocolate can be. It is not waxy and bitter, but rather rich and silky with a surprising roundness for a 100% bar. Their Old School Bar is chocolate as it was back in the day: Simple and pure. Only two ingredients ground together in a vintage melangeur – no further processing, refining or conching. Partially ground cocoa nibs and whole crystals of organic cane sugar provide an entirely unique crumbly almost cookie-like texture. Old School all the way… Or how about their Costa Rican Chocolate with a healthy sprinkling of Maldon Sea Salt and Aleppo Peppers. The list goes on and on, with each bar as tantalizing, unique and desirable as the next. We just received a shipment from them last week and have quite the stock in at the moment, so if you have a similar affinity for this most decadent substance, we recommend coming by to give it a try before Holden eats it all 😉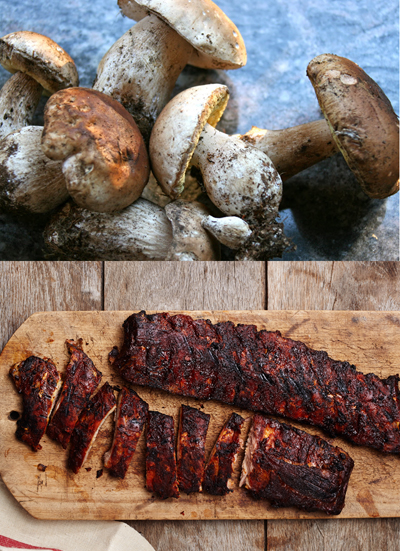 Friday Night Dinner: I can already tell it's going to be a good week because we have one of Rebecca's Friday Night Dinners to look forward to at the end of it. This week's Fall Teaser menu sounds simply divine and has me salivating already. Start with a Colorado Wild Foraged Porcini Tart with Smoked Chèvre and Fresh Herbs, followed by Slow Roasted Cure Farm Pork Ribs with Leopold's Apple Whiskey Sauce. Buttermilk Corn Grits are served along side with Dressed Field Greens, and a Pear Clafouti rounds out your meal! Dinner for two costs $63 and will be hot out of the oven at 5:30!
New Cheese – Pecorino Fresco! I don't know about you all, but this time of year Will and I eat tomatoes and corn as if it's our job. These few prime weeks where the flavor is otherworldly, the texture is perfect, and you can taste the months past that went into perfectly ripening the summer's bounty. Especially with the amazing Bona Vida Grower's tomatoes we have right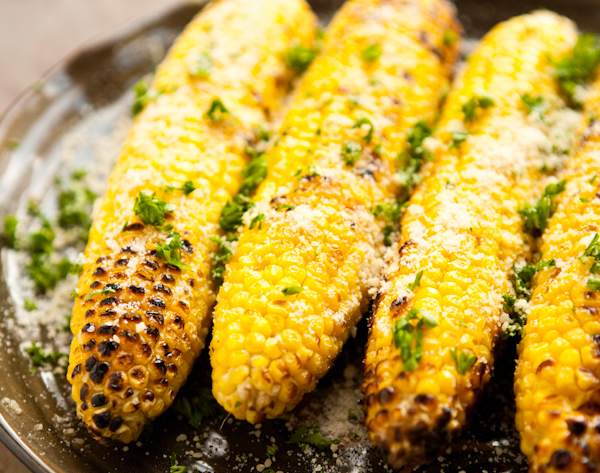 now, a drizzle of good olive oil and a sprinkling of sea salt is really all you need, but if you want to elevate your summer dining experience to a whole new level, I recommend coming in for a chunk of the newest cheese to grace our little case, pecorino fresco.  Pecorino Fresco Blue Daisy is a lovely and quite young Pecorino. As opposed to the aged versions usually available on a counter, a younger pecorino such as the Blue Daisy is mild and sweet with a bright flavors and a springy texture. It is beautiful before, after or during a meal. Perfect with stone fruit or berries, shaved alongside summer heirloom tomatoes, or atop a simple pasta dish. Try it cubed up in fresh salads, or grated and sprinkled on top of grilled corn! It is simple and fresh and far too easy to eat!
That is all for today friends! Don't forget that Elizabeth will be hosting our Free Tuesday Night Wine tasting from 4-7 in the wine shop tonight, a battle between Spain and Italy, and that tomorrow Brad will be rolling out fresh hand-made pasta. In honor of late summer, this week he's making Hatch Chile and Chevre Ravioli with a Cilantro Dressing…yes please!! Thursday night brings us freshly roasted chickens with duck fat mashed potatoes and Friday is our dinner feast!
Enjoy your week and we look forward to seeing you all in the shop soon!
Coral + Will