CURED: The Spring Edition (Vol. 5 Issue 13)
Good Morning Friends of Cured,
Happy April! We hope you all enjoyed an absolutely spectacular Easter, complete with too many chocolate eggs and at least one bottle of rose in the afternoon sun. We certainly did! Holden had his two best friends over for brunch in the back yard and an 'egg hunt' (aka intermittently smashing eggs and getting distracted), and enjoyed several rounds of bocce and bottles of rose. All in all not a bad day 😉 I know I keep saying it, but spring seems to truly have sprung as our morning runs are filled with the intoxicating scent and beauty of trees blossoming open and springing to life across Boulder. It truly is a magnificent time of year. Plus, in our little world spring means the influx of fresh goat and sheep milk cheeses as the goats and sheep are once again let out to pasture to graze on the delicate spring grasses and wildflowers. Oh yes, it's a good time to be in the world of cheese.
Avalanche Creamery and Many Fold Farm: Nothing says spring quite like the first logs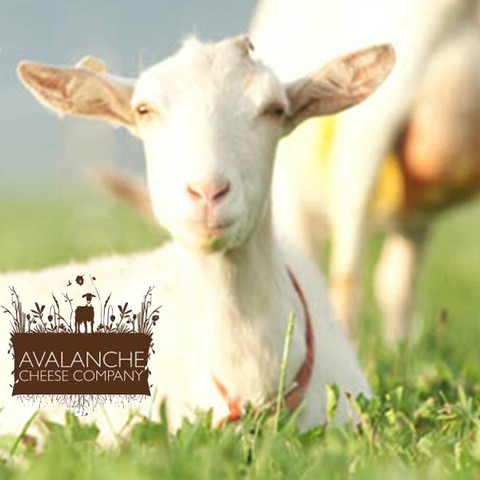 of fresh chevre straight from the farm. Lucky for us, Avalanche Creamery, an award-wining goat dairy, is just down the road in Basalt, and the second the goats start making milk, we start getting fresh cheese. The goats are milked, the cheese is made, and as soon as the curds have set it is packaged up and shipped to us, making this chevre about as delicate and fresh as you can find! It is mild and creamy with a lemon-y tang that just screams of green grass and sunshine. It is beautiful crumbled on a salad of farmers market greens or sprinkled on freshly roasted beets with hazelnuts and balsamic. Or spread it on a cracker with tomato jam and open up a bottle of Sancerre and watch an entire log disappear.
The other newest obsession in our case are the fresh sheep milk cheeses from Many Fold Farm. Many Fold Farm in the product of a pair of high school sweethearts who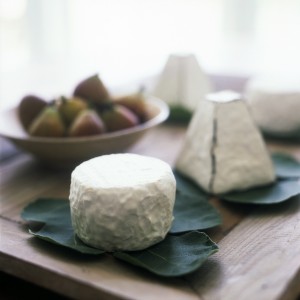 wanted to do something real, meaningful, and together. Hmmm…kind of reminds me of two other crazy people I know, minus the high school part 😉 Located in Chattahoochee Hill Country, about 50 minutes from Atlanta, GA, they now have 200 sheep, three dogs, 800 chickens and two baby girls, and happen to make some of our absolute favorite soft cheeses. Garrett's Ferry is a soft, buttery, ultra-creamy crottin-style cheese made from pasteurized sheep milk. It is aged 3-6 weeks and in this time becomes meltingly luscious and decadently creamy, while still maintaining a delicately chalky paste. The first time Will and I tried this cheese, we ate an entire wheel in 10 minutes. No joke. We also have Condor's Ruin in the case, a velvety, ash-ripened pyramid that is dense, complex and rich. Styled after the traditional pyramid shaped goat's milk cheeses of the Loire Valley, we think the Georgia version has them beat.  Both of these cheeses beg to be devoured on their own, or accompanied by some fresh figs or a delicious preserve.
Fresh Fish Friday! We hope you all enjoyed your fresh halibut last Friday as much as we did! I think it might have been one of the best cuts of fish I have ever tried! It was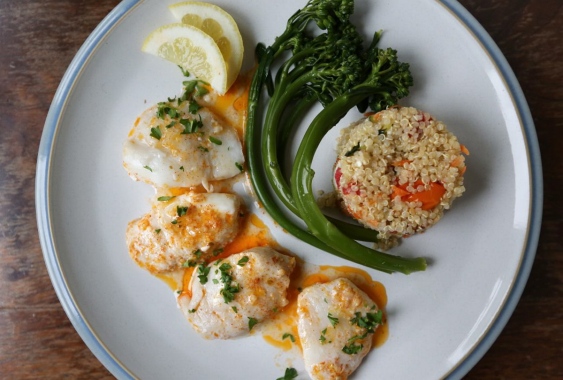 somehow simultaneously flaky yet moist, and almost fluffy in texture. I knew Seattle Fish Co had a good reputation, but we were taken aback by just how good their halibut really was. Which makes me even more excited for this Friday, which brings us another opportunity for a delicious, straight out of the ocean, fresh fish treat. We were so smitten by the halibut last week, that when Chad called us and told us about the halibut cheeks he has coming on Thursday, we couldn't resist. Halibut cheeks are exactly what they seem-a portion of flesh removed from the head of the fish. They have an almost sweet and luxurious flavor and their texture and shape resemble a large scallop. You cook them as you would a scallop – grill, roast, or pan fry, and they cook quickly. When ready, they'll feel slightly firm but not hard. When cooked through, the flesh will lose its translucency and become opaque. Here is a recipe for Roasted Halibut Cheeks with Lemon Butter that sounds simply scrumptious.
Preparation time: 20 minutes
Cooking time: About 10 minutes
Makes: 2 servings
2 Tbsp melted butter
2 Tbsp lemon juice
1/2 tsp grated lemon zest
1/4 tsp paprika
• pinch cayenne pepper
1 small garlic clove, minced
4 to 8 halibut cheeks, depending on size (about 300 grams)
1 Tbsp chopped fresh parsley
Preheat oven to 450 F. Combine the first six ingredients in a bowl. Pat the halibut cheeks dry, and then set in a shallow-sided baking dish just large enough to hold them in a single layer. Spoon the butter mixture over the halibut cheeks. Bake uncovered, for 8 to 10 minutes, or until the cheeks are just cooked. Divide between two plates, top with pan juices, sprinkle with parsley and serve.
We also have the first fiddlehead ferns of the year coming into the shop this Friday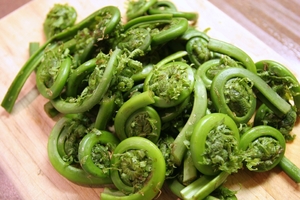 (personally we're planning on serving them alongside our halibut cheeks for dinner!) and are available for pre-order at $8 per quarter pound. Fiddleheads are the unfurled frond of the ostrich fern harvested as a vegetable.They are a mixture between asparagus and okra in flavor and texture – sweet, nutty and crunchy. We recommend they be prepared simply to best savor their flavor.  Suggested cooking instructions are thus: Quickly blanch in rapidly boiling water, about three minutes and then finish lightly sautéed in butter and finish with salt and a hint of lemon. They're not only beautiful, but incredibly delicious, tasting of spring like few other foods one could imagine.
That's all for today my friends! Don't forget that we have our Free Tuesday Night Wine Tasting from 4-7 tonight and tomorrow Brad is whipping up fresh, hand-rolled pasta! He visited the first Farmer's market on Saturday and picked up spring sorrel and cinnamon cap mushrooms to mix with mascarpone for this weeks pasta. Sounds like Holden's in for a real treat! As always, Thursday brings us organic roasted chickens and duck fat mashed potatoes, hot out of the oven at 5:30!
Enjoy the beautiful day and look forward to seeing you all in the shop soon!
Will and Coral