CURED: The September Edition (Vol. 5 Issue 35)
Good Morning Friends of Cured,
We hope you all enjoyed a beautiful, delicious and relaxing Labor Day! It doesn't exactly feel like summer has come and gone with a forecast of 80 degree days ahead, though I cant lie, these cool evenings and chilly mornings feel awfully good and have us quite excited for the impending fall. Speaking of fall, Boulder's fifth annual Burgundy Festival is taking place from October 22-25th this year, and we could not be more excited that tickets are now on sale.

The gathering is one of the leading Burgundy events in the U.S. today and it attracts top Burgundy producers and leading wine professionals from across the country. The four-day celebration of Burgundy wines includes tastings and seminars with winemakers and top U.S. wine directors, as well as wine dinners hosted by 

Boulder's best restaurants. Past speakers have included: Richard Betts, MS, owner of My Essential Wines and Saint Glinglin Wines; Shayn Bjornholm MS, Examination Director for the Court of Master Sommeliers Americas; Robert Bohr, Grand Cru Selections and owner of Charlie Bird Restaurant in New York City; Carlton McCoy, MS, Wine Director at the Little Nell in Aspen; Raj Parr, Executive Wine Buyer for the Michael Mina Restaurants and owner of Sandhi and Maison L'Orée; Eric Railsback, Caveau in Santa Barbara as well as Lieu Dit and Vallin Wines; Grant Reynolds, Sommelier at Charlie Bird in New York, formerly of Frasca Food and Wine and named a 2013 Wine & Spirits Best New Sommelier; Sabato Sagaria, MS, Director of Food and Beverage at the Little Nell in Aspen; and Bobby Stuckey, MS, owner of Frasca Food and Wine in Boulder, CO and Scarpetta Wines. Phew!! It promises to be a most tantalizing and delicious weekend, filled with too much food, too much wine, and the utter contentment that comes from indulging in the finest of both. Tickets are on sale now and already selling out quickly, so snap yours up today! 
New cheese: Txiki from Barinaga Ranch! If you haven't noticed by now, we are having far too much fun here at Cured finding, tasting, and bringing in new cheeses, largely for our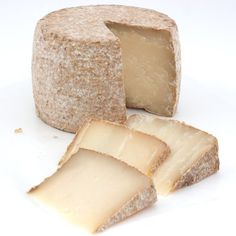 own selfish enjoyment, though there is the added bonus of being able to introduce you all to some very cool, unique cheeses, and share what excites and inspires us. Inspired by her Basque sheep herding and cheesemaking heritage, Marcia Barinaga and her husband, Corey Goodman, purchased a farm in the rolling hills overlooking Tomales Bay in West Marin County. Their intention was to make Basque-style cheese with sheep milk from their own dairy. After attending a cheesemaking class in Vermont, Marcia and Corey accompanied Marcia's father on a trip to the Pyrenees to learn the secrets of cheesemaking from Basque masters. From here, the dream of making cheese in California began to unfold. Txiki is pronounced "cheeky" and means "little" in Basque. It is reminiscent of Petit Basques, a classic Pyrenees sheep's milk cheese.  Only available seasonally, the wheels have a beautiful aroma of sweet pastured milk and toasted nuts. It is beautiful shaved over a salad redolent with heirloom summer tomatoes and freshly charred corn. Pair it with the last of the summer's peaches for a sweet, salty treat, or enjoy on a chunk of freshly baked bread with a drizzle of truffle honey to get you palate ready for the impending truffle season!
Fresh Fish Friday: Nunavut Arctic Char!! What a special fish!!!  For those of you who enjoy farm-raised artic char, please take the opportunity to taste this special fish that is only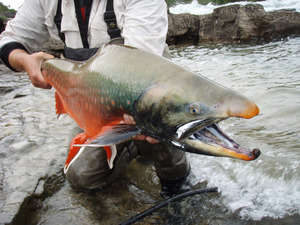 available during two very short windows of time throughout the year. Nunavut Char is a fishery managed by the Inuit fisherman of Cambridge Bay, Canada.  The Nunavut Territory stretches 1000 miles north of the Arctic Circle, literally, to the top of the world.  These native fishermen have been fishing these grounds for many years and are now bringing this amazing char to us for the seventh consecutive year.  Escapement is managed by counters ensuring the return of these fish for years to come, and counts taken this year indicate this is one of the best managed fisheries in North America.  Char is a very complex and deeply flavored member of the salmon family.  This fish is very high in fat content and offers an incredibly buttery, rich flavor.  Sustainable, healthy, and most of all delicious, coming in at $22/lb. Order by Wendsday afternoon for a Friday delivery!
That is all for today my friends! It's Wednesday which means Brad has been in the shop rolling out hand-made pasta for you to take home for dinner tonight. Tonight brings us Farfalle with local cherry tomatoes and capers, served with a ball of Burrata that just begs to be all mixed together with a healthy dose of olive oil. Thursday brings our freshly roasted chickens with duck fat mashed potatoes, and Friday is the very special Nunavut Arctic Char!
Enjoy the beautiful week ahead and look forward to seeing you all in the shop soon!
Coral + Will