CURED: The Scarpetta Edition (Vol. 5 Issue 38)
Good Morning Friends of Cured,
We hope you're all enjoying this lovely drizzly morning and what might finally be the start to fall! Congratulations to Rebecca and Tashi who tied the knot down by the river at the Lyons Farmette. There was good wine, a cake made of Delice de Bourgone, and chickens and alpacas to boot! Thank you all for being so supportive and understanding of our Sunday closure so our staff could be present and celebrate!
For the week ahead…

Scarpetta Wine Promotion: While most of you are familiar with the Scarpetta wines, (we may have a slight additction to them and tend to drink, and sell, them often!) now that it's finally fall it feels like it's only right to make sure you all know, and love, the Frico Rosso, the newest addition to the lineup. Starting October 1st (Thursday!) and running as long as supplies last (a few weeks? more?), with the purchase of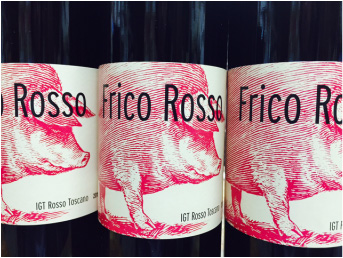 ANY two bottles of Scarpetta, we're giving you a FREE bottle of the Frico Rosso. Sound too good to be true? Lucky for you it's not!! For those of you who are unfamiliar, Scarpetta is a line of wines started by Bobby Stucky and Lachlan Mackinnon-Patterson, the two men behind Frasca Food and Wine, the other-worldly Friulian restaurant just across the street from us here at Cured. Scarpetta is their private label wine that is made with fruit sourced from vineyards across northern Italy. For the past several years, many of you have come to love their Barberra and Pinot Grigio, both classic, well-priced expressions of these classic grapes. This summer, they released their Frico Bianco, a white Friulian Field blend that we couldn't stop drinking on warm summer afternoons, and the Frico Rosso, a Sangiovese/Merlot blend that seems designed to be enjoyed with a pizza on the grill on a chilly fall evening. Coming in at $11.50 a bottle, these wines are not only deliciously quaffable, but ridiculously well priced as well. So starting Thursday, come on by and stock up on some of our favorite staples for the chilly months ahead!
Friday Night Dinner: OKTOBERFEST FEAST! It's hard to believe but October is upon us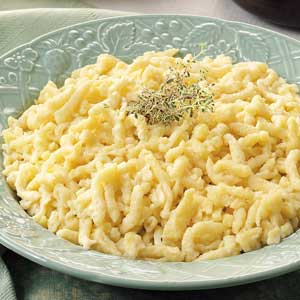 which means a whole month dedicated to delicious, rich, german inspired beers lies ahead. In honor of this wonderful month, we're cooking up a German inspired feast, just begging to be paired with a few of your favorite Octoberfest beers. Enjoy a dinner of Spätzle with House Made Sausage, Gruyère Cream and Caramelized Onions, followed by Cabbage Braised in Red Wine with Apple and Mustard Seeds and a salad of Dressed Field Greens. A Smoked Pumpkin Pie with Spiced Mascarpone rounds out your meal! (For those of us who aren't frequent German diners, Spätzle, literally translated to "Little Sparrows" are a kind of soft egg noodle or dumpling ound in the cuisines of southern Germany and Austria, Switzerland, Hungary Alsace and South Tyrol. Dinner for two costs $45 and will be ready to pick up at 5:30 this Friday!
Little Belgians Speculoos cookies in the house!! For those of you who are unfamiliar, Speculoos [speky'lo:s] is arguably the most popular cookie in native Belgium. Order a hot drink just about anywhere and chances are you'll get a speculoos on the side. I truly think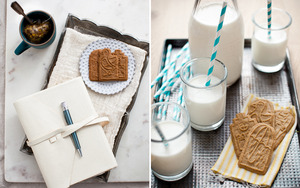 the only reason I enjoyed visiting Will in rainy Belgium and watching the cold, wet races there, was the fact that we could eat as many speculoos (and lets be honest, Belgian frites) as our little/large tummies could possibly handle. So you can only impinge our excitement when we got an email several weeks back from Evy, a Belgian woman in California who has started making these tasty treats locally. And man oh man were we right to be excited. Using all pure, real, natural ingredients, her speculoos are pretty much as good as it gets. The crunchy treat gets its distinctive taste from a blend of spices that varies from baker to baker; her mix combines nine spices that include cinnamon, cloves, pepper and cardamom. The name speculoos derives from speculum, Latin for mirror: each speculoos is the mirror image of the mold it's made with.  In 17th- to 19th-century Europe, bakers would commission a carver to create a wooden cookie board with images that reflected popular trends of the day. Little Belgian's custom designs are inspired by Evy's childhood memories. We love them alongside a Boxcar cappuccino in the afternoon, in a bowl of ice cream after dinner, or, our current guilty indulgence, with our tea first thing in the morning, our version of a breakfast biscuit 😉 We have small packs (perfect for the afternoon indulgence) and large boxes (for once you get addicted) so ask any of our mongers to introduce you to this decadent treat!
That's all for today my friends! Just a reminder that Brad will be whipping up butternut squash, speck and chevre ravioli tomorrow morning and we'll have freshly roasted chickens and duck fat mashed potatoes hot out of the oven at 5:30 on Thursday (which happen to pair perfectly with Scarpettas wines!!).
Enjoy this blissfully chilly morning and we look forward to seeing you all in the shop soon!
Coral + Will