CURED: The Sashimi Edition (Vol 5 Issue 24)
Good Morning Friends of Cured,
Happy Solstice! It seems as though summer has finally arrived, just in time for the longest day of the year to come and go, with promises of long, warm evenings, perfect green grass picnics, and days spent sipping rose by the pool to come. We don't know about you all, but we've been loving our summer so far. Our 'wall of pink' rose selection is unparalleled this year, and we've been 'working hard' trying each and every one of them with various combinations of fresh summer cheeses and grilled fruits in every back yard and park we happen upon.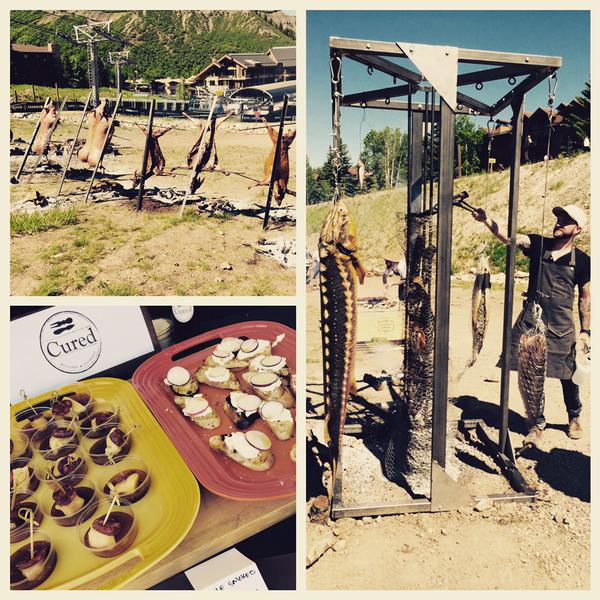 We spent Solstice weekend up in Aspen for the annual Food and Wine Classic where we had thehonor of serving up various bites and cheeses at a couple of events. On Friday, we joined over 50 chef's, farmers and butchers for a wood fired feast, everyone working and cooking together to spotlight traditional outdoor cooking events. There were whole hogs, goats, steer, sturgeon, octopus, lamb, oysters…pretty much every and anything  you can imagine being cooked outdoors over large open pits. Then on Saturday we set up our station at the annual Grand Cochon, where the 10 top chefs from around the country compete in a heritage pig, head-to-tail, winner-takes-all culinary showdown. Cured set up a table with the aim of 'bringing balance' aka cheese, to the pig laden feast that was the evening. Both events, and obviously all that surrounded them, were delicious, beautiful, inspiring, and the prefect way to officially welcome in summer!
Speaking of delicious, we have a few delicious treats for you at the shop this week that we've been excited for since last week.
Yellowfin Tuna Sashimi! As we were looking at the weeks fresh catches from Seattle Fish Co yesterday, our eyes caught the sashimi grade yellowfin (aka Ahi) tuna and we just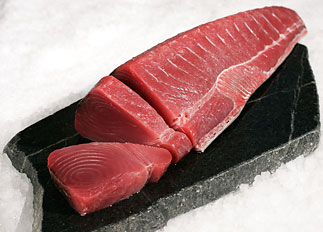 couldn't seem to get past it. Maybe it's the summer heat and the promise of rose and cool white wine to compliment such a dish, or maybe its the inevitable upcoming Fourth of July BBQs inspiring a contrast in flavor this week, but either way, we selfishly couldn't resist making this weeks Fresh Fish Friday a sashimi grade yellowfin tuna special. I already have plans for at least Friday, Saturday and Sunday nights, complete with avocado and ahi sushi one night, poke another, and delicately grilled tuna steaks with a black pepper sesame crust and banana rice alongside some fresh corn and a summer salad to boot. The availability of ahi tuna has increased as a result of the expansion of the harvest range of the long-line fleets out of Hawaii and the South Pacific. Ahi tuna is flown in directly to Seattle Fish on a daily basis, and then to us later that same day. Coming in at $27.50/lb, let us know how much you would like by Thursday (so far Holden has requested at least a pound for himself), and we'll have it waiting for you come Friday!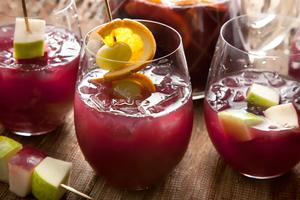 Sangria Tasting: Nothing quite says summer like a big ol glass…or mug if you like to go Will and Coral style, of sangria. It takes us back to summers in Spain, nibbling on patas braves and calamari, sipping sangria for hours at a time looking out over the Mediterranean. While we might not have fresh calamari and a mediterranean beach neaby, we have tried and tested and can promise that it turns out sangria still tastes pretty damn good in a back yard or park, looking out over the flatirons, as long as your listening to Spanish music. Which is why we are excited to welcome What We Love Winery, a local winery, who just so happens to make an absolutely delicious Sangria.  Many of you know and love their Mulled Wine, but we think that What We Love's sangria might be ever better. The perfect blend of wine and natural fruit juices, this blend is designed to be cut back with water or sparkling water and poured over fruit.  We love tossing in a sprig or two of mint as well.  Come taste with us from 4-6:30 and get ready for summer!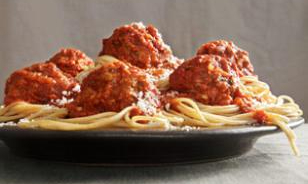 Well friends, that is about all for this beautiful Tuesday. Don't forget that we have our​Free Tuesday Night Wine Tasting from 4-7 tonight and that tomorrow Brad is whipping up a fresh batch of hand-rolled pasta. This week, he and our other chef Rebecca are collaborating to offer a spectacular feast of spaghetti and meatballs, with the freshest, finest of pastas and most decadent hand-made meatballs. For $20 this promises to knock this classic dish out of the park. Thursday brings us our freshly roasted chickens and duck fat mashed potatoes and Friday is our Ahi Tuna special! 
Enjoy this beautiful day and look forward to seeing you all in the shop soon!
Will + Coral