CURED: The Porchetta Edition (Vol. 6 Issue 14)
Good Morning Friends of Cured,
We hope you all enjoyed the glorious weekend – it feels like spring has finally sprung!  It was such fun watching all our regulars pour into the shop post Farmers' Market, bags loaded up with the first of the spring goodies, hunting for a bottle of rose and a chunk of cheese to round out the meal and to enjoy on a porch or park. Trees around town are turning green and blossoming open, and town feels vibrant and alive. We're loving it!
We have a couple fun treats for you this week that we hope you'll enjoy along with plenty of sunshine.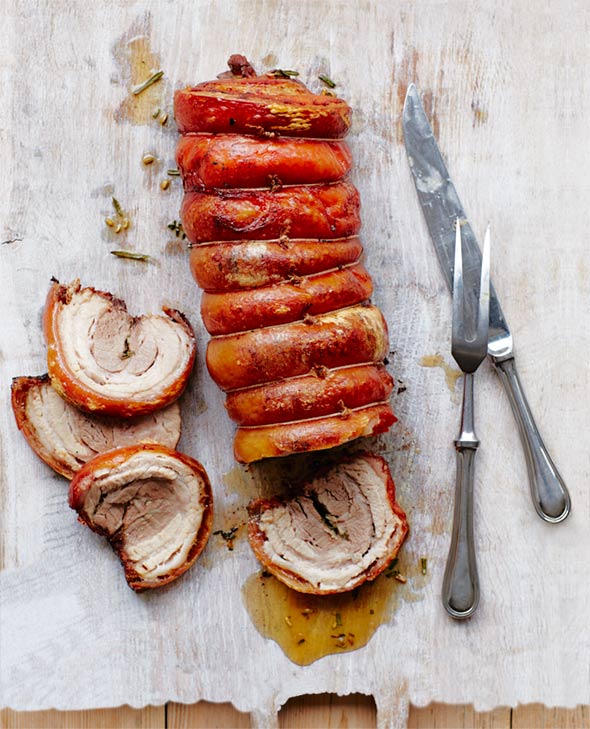 Friday Night Dinner! After the holiday madness of March with our Thursday Night St. Patrick's Dinner and Sunday Night Easter, we are finally back on our normal Friday Night schedule where every other Friday our culinary team whips up a feast for two, hot out of the oven at 5:30 and ready to be taken home and devoured. This Friday, April 8th, we're whipping up our House Made Porchetta. Oh yeah! Tender Belly Pork Loin, seasoned with herbs and spices, wrapped in pork belly and roasted to perfection. Enjoy blistered kale with polenta croutons and pecorinoand Rancho Gordo Royal Corona Beans baked with San Marzano tomato and green garlic along side, and a salad of chicories with shaved celery, pickled pink peppercorns, House Ricotta Salata and a walnut vinaigrette to round out your meal. Dinner for two costs $64 and we already have reservations pouring in so give a call today to reserve your feast!!
Fruition Farms Sheep Milk Ricotta. Those of you who have been following our newsletter for a while have most likely heard us wax lyrical about the incredible substance that is the sheep milk ricotta from Fruition Farms. If you haven't been lucky enough to try this blissful substance already, then man oh man are you in for a treat!! Each and every Spring we wait patiently for the sheep at Fruition Farms to have their spring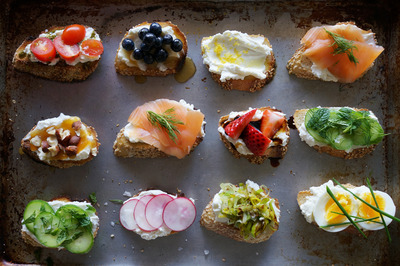 lambs and to start producing copious amounts of milk so we can enjoy the fruits of their labor. Fruition Farms is run by chef Alex Siedel (of Fruition Restaurant and Mercantile in Denver) and is located just outside of Denver in Larkspur, CO. Fruition Farms Dairy was started in 2009 when Alex and his head cheesemaker Jimmy decided to create Colorado's first Artisanal Sheep Dairy and Creamery. The Ricotta was the farms first cheese. Created based on their past cheesemaking experience in the kitchen at Fruition Restaurant, it continues to be one of the backbones of their cheese portfolio. In fact, in 2011 their Ricotta received a blue ribbon at the American Cheese Society Conference for the best Sheep's Milk Cheese. The sheep milk ricotta is shockingly creamy, owing to the rich quality of the sheep milk cheese. It is decadent with a deep flavor, creamy, while simultaneously remaining bright. We have been devouring it every chance we get. We are making Spring Lunch Plates with ricotta, prosciutto, tender spring greens and bread all drizzled with a generous amount of EVOO. Two nights ago we make a bag of Martelli's pasta with fresh peas and asparagus and dolloped generous scoops of ricotta and a little sea salt on top. And last night we really outdid ourselves, whipping it with a touch of honey and putting it on top of a blueberry pound cake for dessert. Needless to say, it is delicious in just about any iteration you can scheme up and will be in the shop (while supplies last) through the summer. Yay!!
Rose Tasting, Pasta and Chicken. That's right, as always we will be hosting our Free Tuesday Night Wine Tasting from 4-7 tonight. The sunshine and spring blossoms have us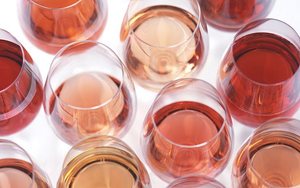 focused on rose and are excited to open up some of the first few bottles of the incredible 2015s that have started pouring in by the case. It was an incredible year for rose, from France to Italy, and from Pinot Noir to Sangiovese, and we couldn't be more excited to share the breadth and diversity we've been lucky enough to stock up on this year! We have over 30 different roses coming in this season and will be featuring them frequently in the coming months.  Try these first few now and learn with us all summer long!  Tomorrow night is Wednesday which means Fresh Hand-Rolled Pasta, a very springy Artichoke, Chèvre and Asparagus Tip Ravioloni. Thursday brings us freshly roasted Chickens and Duck Fat Mashed Potatoes hot out of the oven at 5:30 and Friday is our Porchetta Feast!
Enjoy the stunning week out there, take some time to indulge in a picnic if you can, and look forward to seeing you all in the shop soon!!
Coral + Will