CURED: The New Edition (Vol. 6 Issue 2)
Good Morning Friends of Cured,
We hope you're all enjoying this lovely and slightly warmer start to the week and had a good weekend. It certainly feels good to be back open and cranking away…and I can't tell you how amazing great cheese tastes after 7 days away!!!! Never again will we let that situation happen. 😉 The New Year means new menus and fun new products on the shelf here at Cured and we couldn't be more excited to share!

Friday Night Feast: Cured Cassoulet!! What better way to kick off 2016 than with Cured's homemade cassoulet, by far our most popular dinner of 2014 and 2015. For those of you unfamiliar, Cassoulet is a rich, slow cooked stew originating in the south of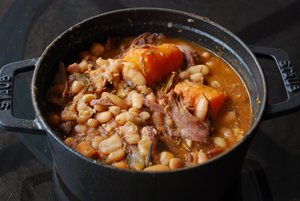 France with a base of white beans and, in our case, duck and pork. It is one of those foods that is always endearingly delicious, comforting, utterly addicting, and a total pain to cook yourself, so at least in our household, is always saved for a special treat. Like when our chefs decide to do all the hard work for us. This Friday, enjoy our Slow Cooked Signature Cassoulet with House Made Garlic Sausage, House Cured Duck Confit, Cure Farm Pork Shoulder and Rancho Gordo Cassoulet Beans prepared over several days and finished with a crust of buttery bread crumbs (gluten free breadcrumb option available). Dinner includes a Baguette, Half a Wheel of Beurre de Baratte (the world's most insane butter) and a Simple Salad of Mizuna, Shaved Pecorino, Garlic, Lemon, Pine Nuts and Olive Oil. Dinner for two costs $65, tastes amazing with a hearty bottle of wine (we might even have a suggestion open to try…) and will be ready for pick-up at 5:30 on Friday! Reservations are filling quickly to give a shout today to reserve yours!
Olio Nuovo: I can't think of a more appropriate New Year product than the Paniole Olio Nuovo that just landed on our shelves off the boat from Tuscany. This is the 2015 harvest and the first our dear friend and importer has brought into the country.This oil is from a very special early harvest of olives which took place on October 15th near Mt. Amiata in southern Tuscany, just south of Montalcino and the land of Brunello. Only these early, 100% green olives deliver the electric green color and sizzling flavor that makes Olio Nuovo so special. I was unfamiliar with Olio Nuovo before Steve brought us by a

bottle to try, so in case you're as curious as I was: Olio Nuovo or "New Oil" has long been a culinary tradition in Italy. The name refers to the best and freshest unfiltered oils made from olives harvested during the first two weeks of the season. Because the oil is so new it tends to be green, grassy, and more fruity tasting than the extra virgin olive oil produced later on.
Alessandra Ciacci, the olive oil maker behind the beautiful Paniole, is very protective of her groves and everything is farmed organic and certified by the USDA. In this blend a very special olive variety, Olivastra Seggianese, plays the lead role with the rest being made up by Moraiolo and Leccino. Olivastra is a coveted variety that only grows near Mt. Amiata and delivers intense Tuscan character but with a side of elegance and balance. The trees average 90 years in age with some as old as 110.  To use this decadent oil, pour it over freshly grilled breads, bean and kale soups (or Cassoulet!!), or finish steaks right at the table. There is only a small amount of this oil that made it to the US (shipped directly via temperature controlled wine containers, not Air Freighted which can disrupt the temperature and freshness) and we're feeling lucky to have snatched up what we did. So if you find yourself craving a New Year polyphenol pick-me-up, come on by and try this beautiful oil.  We only have a couple of cases and they're already going like italian hotcakes!
Fortuna Chocolates: Looking back at 2015, the items Will and I most frequently 'steal' from the shop just so happen to be wine, olive oil, and obviously, chocolate. So it only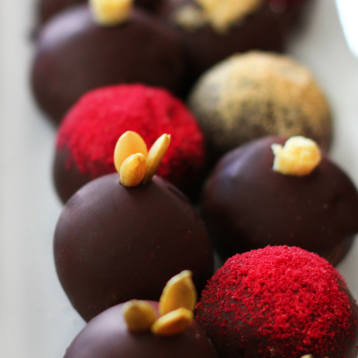 seems appropriate to share our other newest obsession at Cured, Fortuna Chocolate. Fortuna Chocolate begins with the very finest, organic cacao beans sourced directly from individual growers in Mexico and thenhand roasted here in Boulder. Their single estate cacao is fermented and dried by each grower ensuring complex flavor profiles and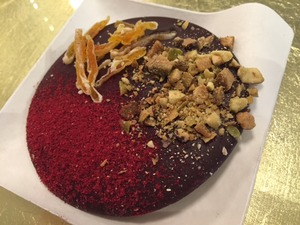 building upon thousands of years of traditional techniques in Mexico. We currently have two very special treats from Fortuna, in prime view on top by the cheese counter and just begging to be enjoyed after a Cured Sandwich or bowl of soup. We have a hand dipped Vanilla Bean and Cajeta Caramel Dark Chocolate Truffle ($3) as well as these absolutely stunning, art worthy mediants (little rounds) dusted with raspberry essence, roasted pistachio and candied mandarine orange ($4). They make an absolutely beautiful gift if you can keep from devouring them yourself after lunch or with your afternoon coffee.
Our Free Tuesday Night Wine Tastings are back up and running, kicking off the New Year this evening from 4-7 with a slightly new format for 2015: We'll be featuring a weekly white and red wine, offering the tasting discount on them all week long, and from time to time will toss a rose, bubbly, or sticky in the mix. Tomorrow brings us fresh, hand-made pasta, Pappardelle Bolognese with our first batch of House Made Ricotta Salata and Tuscan Kale ($26 for two) to be exact! Thursday is our freshly roasted chickens and duck fat mashed potatoes and Friday is our Cassoulet Feast!!
Enjoy the beautiful day out there and look forward to seeing you all in the shop soon!!
Coral + Will