CURED: The Mother's Day Edition (Vol. 6 Issue 18)
Good Morning Friends of Cured,
Happy May!! While Sunday's snow and showers certainly didn't feel May Day appropriate, today's blue skies and sunshine made up for it in spades! Something tells me I'm not alone when I say that we are certainly looking forward to the beautiful week ahead. And what a week it is – with both CU Graduation and Mother's Day to boot­! It seems like there will be plenty of reason to pop open a bottle or two of champagne and celebrate graduates and mothers alike. With that in mind, allow us to tempt you with the week ahead…

Friday Night Dinner: Rib Feast! Perhaps you've got family in town for the big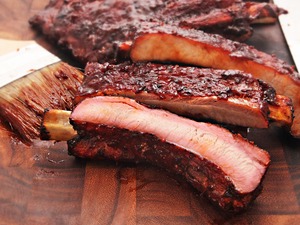 graduation celebration and are maxed out on cooking, or maybe you want to treat your ever-working wife or mother to a night to simply put her feet up with a glass (or, ahem, bottle…) of wine in hand. Whatever your Friday night motivation may be, we've got you covered with a decadent rib feast, cooked up fresh by our inspired chefs and hot out of the oven at 5:30. Enjoy Slow Roasted Heritage Pork Ribs with a house made Leopold Brothers Whiskey Sauce served with Cured's house-made Pimento Cheese Dip and Crudites. Freshly Baked Biscuits with Honey Whipped Butter and a salad of Field Greens with Radish and Buttermilk Poppy Seed Vinaigrette round out your meal! Dinner costs $56 for two and has already started selling quickly so reserve yours by calling today!
Mother's Day Gift Box: Mother's are truly and utterly the best. They give us every ounce of their being and love us unconditionally, whether we're 2 months old, 20 years old, or 50 with grown kids of our own. They take care of us when we're sick, celebrate with us when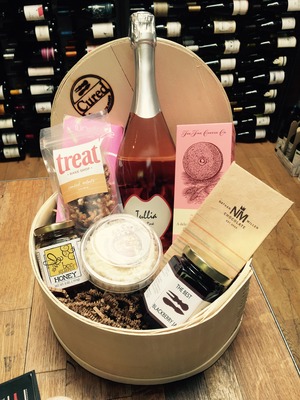 we're happy, make us dinner, tidy our rooms, kiss our booboos when we fall down, and are always there to selflessly pick us back up and help us whenever we're in need. They spend 365 days a year worrying about us, loving us, and taking care of us, which is why on this one single lovely Sunday, it is so important to stop for a minute and take the time to appreciate these incredible women and say thank you for all they do for us. No big deal right? 😉 Brunch is always lovely, and flowers have never made anyone sad, however, at least in our gustatory opinions, these special ladies deserve something with true thought, sentiment, and maybe a little bit of fat. Like cheese, chocolate and champagne perhaps?! Just a thought! Which is why we've compiled a Mother's Day Gift Box, full of all the decadent treats we think any mother would love… To make your life easy, and their Sunday even more special and indulgent, for $100 this decadent box includes: A bottle of Tulia pink sparkling prosecco, Fine Cheese CO butter crackers, La Tur, an indulgent Italian triple créme, our house Blackberry jam, Bee Squared local honey, Treat Candied Walnuts, Nathan Miller's Salt and Wafer Chocolate Bar and a pink Himalayan Sea Salt and Dark Chocolate bar from Undone!! We will have these boxes available for pre-order (or last minute pick-up if you're really off the back!) today through Sunday. Just give us a shout or pop in the shop and we'll have one ready to go!
With the inevitably crazy week ahead, don't forget that we're here to make your life easier! We have our Free Tuesday Night Wine Tasting from 4-7 tonight featuring a 4 pack of wines for spring from Volio Vino, all perfect to share over dinner or happy hour with visiting in-laws. Tomorrow Brad is whipping up a fresh batch of hand-rolled Ravioli filled with sweet-as-can-be Wintered Over Spinach, local Goat Milk Feta and Pine Nuts. Thursday brings us freshly roasted chickens and duck fat mashed potatoes and Friday is our Rib Feast!
One last quick note: If you're thinking how nice it might be to have a custom crafted Cured platter of cheeses and charcuterie on your counter this weekend for any event you might have, please let us know sooner rather than later.  Our weekend is filling up and we don't want anybody to miss out!
Enjoy the next few beautiful days and we look forward to seeing you all in the shop soon!
Coral + Will
---