CURED: The Local Delights Edition (Vol. 5 Issue 33)
Good Morning Friends of Cured,
We hope you all enjoyed the beautiful weekend and last weeks deliciously chilly taste of fall! Students are back in town, school is back in session, and labor day is just around the corner. Luckily we live in Colorado where well after Labor Day has come and gone we are blessed with an endless number of picnic-perfect days that just beg for a blanket, a spot of grass, and a bottle or two of rose…ahhh the good life. One of my absolute favorite things about this time of year is the bounty of produce that fills our garden, farmers market, and inspires our cooking and eating at the moment. With that in mind, I'm going to dive right in because the first item on today's agenda speaks exactly to that fresh local meal planning I'm talking about.

Fresh Fish Friday – Colorado Striped Bass! It's not always necessary to go to the coasts for a great flavored seafood option. While Colorado may not be quite the seafood mecca, it turns out we do have a trick or two up our sleeve…Colorado Catch Striped Bass is naturally raised from fingerlings to fillets in pure artesian waters flowing from Colorado's San Luis Valley. This firm yet flaky and moist textured fish is farmed 

in Alamosa by a family-owned company, Colorado Catch. Co-owner Tyler Faucette says the company produces 350,000 pounds of the bass each year, and nearly half of that stays local, being consumed within the state of Colorado. Colorado Catch's unique geothermal resources and circular tank system have enabled them to increase growth rates, eliminate off-flavors and sustain yields for year-round production. The Colorado Striped Bass is very versatile because of its clean taste and firm, but flakey texture. This fish can be made into a ceviche, or for cooking preparations, it lends well to pan-searing with the skin on, grilling whole, poaching and baking. We're planning of pan-searing ours, and serving it with little sauce made from summer heirloom tomatoes, fresh herbs, capers, and copious amounts of olive oil and sea salt. Serve it alongside a peach caprese salad, some Cure Farm spicy greens, and a bottle of the Alice Grenache Blanc, and you can stick a fork in us and call us done.  Each filet is approximately .75-1# and costs $19.5/lb. Orders must be in by Thursday and fish will waiting for you Friday afternoon!
New Cheese – Snow Camp!! Our managers have been on a roll of late, bringing in excited, addicting and enticing new cheeses nearly every week. We have been enjoying (to say the least) trying each new cheese as it fills our case, and our most recent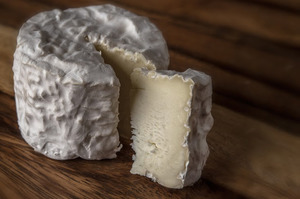 addiction is Snow Camp, a miniature, delicate, beautiful little cheese from The Goat Lady Dairy in North Carolina. In 1995, Ginnie Tate, aka 'the Goat Lady', her brother Steve and his wife Lee opened Goat Lady Dairy in the lovely rolling hills of Randolph County in the North Carolina Piedmont. They started with an abandoned, worn-out tobacco farm with a 200 year old log house and outbuildings, restored them carefully and then added a new dairy barn complete with milking parlor, goat loafing area, dining room and a licensed cheese making room.  From their goat and cow milk we carefully handcraft fresh, soft-ripened and aged cheeses sold at local farmers markets and in stores and restaurants throughout the South and beyond (beyond, also known as Boulder, Colorado!). Named after one of the first settlements in central North Carolina, Snow Camp is a mixed cow & goat milk, and is a beautiful, bloomy rind cheese. Released at only two weeks, the cheese has lush cream-like and butter flavors that deepen as the cheese ripens. They luscious and creamy and bright and enticing and utterly addicting and the perfect size to be devoured in one sitting. We just got 3 cases in and we should have them in stock through the weekend, so if you're out and about in the next few days, come on by and give one a try!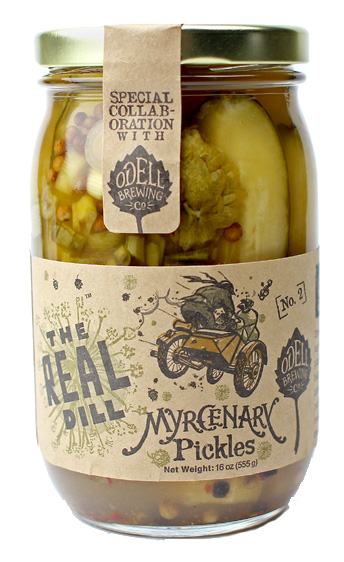 Not to overwhelm you with new and delicious things, but we have one more item we'rejust too excited not to share with you. Many of you know The Real Dill, the absolutely incredible pickle company started by two friends down in Denver. Their pickles are 100% natural, crunchy, crisp, and inventively flavored and we cant seem to get enough of them. Every year, they do a partnership with a local brewery to make a beer pickle for the Briners & Breweries series.This year, they partnered up with the brewers at Odell Brewing Co. to create a savory pickle that captures the tropical-fruit like flavor and pungent aroma of their beautifully bold and balanced Mercenary Double IPA. Making and dry-hopping the brine with the same hops, barley, and water that Odell uses to brew Mercenary, the result is a product that creatively marries the crafts of brewing and brining. They're pretty cool (and quite tasty) if I do say so myself, and they only make a limited number of jars each year, so if love beer, and you love pickles, then we highly suggest coming to pay us a visit!
Phew!! I do believe that is all for today. Don't forget that tonight we have our Free Tuesday Night Wine Tasting from 4-7.  A bit of a sad one for us as it is Wilson's last tasting with us before he moves to Washington on Thursday.  That said, for those of you who have come to love Wilson and his great palate over these last few years, please come by and raise a glass!  Tomorrow Brad will be rolling out fresh pasta. Last month's Ratatouille pasta was such a hit that he's making it again, Fettuccine with Summer Squash, Tomato and Herbs to be exact! Our oven is thankfully repaired which meansThursday Night once again brings freshly roasted chickens and duck fat mashed potatoes, hot out of the oven at 5:30 (and perfect for a quick, easy, back to school craziness dinner), and Friday brings us Colorado Striped Bass! Enjoy the beautiful day (and the amazing sunrises and sunsets that this awful smoke is creating) and we look forward to seeing you all in the shop soon!
Coral + Will