CURED: The Fresh Fish Edition (Vol. 5 Issue 11)
Good Morning Friends of Cured,
Happy Spring! It seems as though Mother Nature agrees with the calendar transition this year as we continue to get day after glorious day of sunshine, and trees all around us are starting to pop out with little green buds. It wont be long until Boulder is decorated in a sea of springtime blossoms and the parks are dotted with picnickers enjoying Cured picnics and sipping on rose…we can't wait!!
We have a few delicious items on the agenda this week that we are quite excited about, so without further ado….

Fresh Fish Friday's. One of Will and my biggest laments living here in Colorado is the relative lack of access to good quality, fresh fish. While meat and cheese always and forever hold a space at the center of our hearts, we miss the fish markets of Spain, and the light, bright freshness of a piece of fish caught earlier that day. Sadly living in a land locked state, fresh fish isn't necessarily always on the menu. Until now that is! While working with the Chef's Collaborative Summit last September, we had the honor of meeting Chad from Seattle Fish Co, one of the finest purveyors of fish across the good ol US of A. Seattle Fish Co is on the forefront of the sustainable fish movement, focusing on fish that are fresh and seasonal, but also sustainably caught and sourced. Chances are that if you've had great fish at any of the finest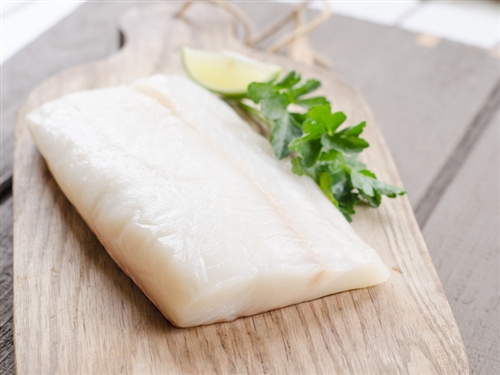 restaurants in Boulder, Chad and his team had something to do with putting it to your plate. Starting this Friday, every other Friday (Holden's been searching for an alternative feast whenever we don't have Rebecca making us a Cured Friday Night Dinner) we will be bringing in one fresh cut of fish, fresh off the boat, er, plane the day prior.  The fish will be brought in off the boat on Thursday, then shipped straight to us and into to your hands, and mouths, on Friday. Given our relative distance from the nearest ocean (Boulder Res just isn't cutting it these days….) it doesn't get much fresher than this! Many of you fellow fish loving friends may already know that Halibut season opened last week and we couldn't be more excited to kick off our Fresh Fish Fridays with Wild Halibut from the icy cold waters of Alaska. We're pulling out all the stops and bringing in fillets from the larger, 20-40# fish, giving you the richest and finest fillets that the ocean has to offer. These beautiful center cuts from the larger halibut we've selected are coming in at $30/lb.  All you have to do is let us know how many pounds you desire by 3 pm on Thursday and we'll have it iced and waiting for you by 5pm on Friday evening. It'll be ready for you to take home and cook up, however your little heart desires. Plus, as always, you'll find Will tucked in the wine shop with a suggested bottle of wine to pair with that week's catch, all ready and chilled in the fridge. Does it get much better than that?!?
New Product: Clif Family Kitchen! During our trip to California earlier this month, we had the pleasure of stopping by the new Clif Family Kitchen shop, VeloVino, in St. Helena. In the middle of our ride they spoiled us with bite after bite of tasty preserves, spices, chocolates and sauces (not to mention a sip or two of rose to round it out), in addition to a meal from what might just be the most amazing food truck on earth. Clif Family Kitchen is the newest project from Kit and Gary, the philanthropic, and culinarily talented couple who started Clif Bar years back. From the time Will started racing his bike, Clif Bar happened to be a sponsor and supporter of every single team he rode on, from age 16 till his retirement in 2009.  Needless to say, we couldn't have been more excited to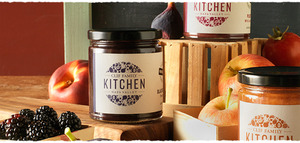 taste their newest venture, and to share the delicious products from this incredible company through our shop. Using bold flavors and simple ingredients, Clif Family Kitchen is a line of artisan foods designed as perfect companions to the Napa Valley wines. We couldn't restrain ourselves from bringing in product after product, each as exciting as the next. We were smitten by several of their jams and their chocolate covered almonds might just be life changing. I have single handedly eaten 3 jars of the chipotle chocolate almonds in the last week alone, and am starting to fear we might need an intervention at some point soon. They have a beautiful, and perfectly priced, red and white wine vinegars made from their own Organic Napa Valley grapes, as well as a organic tomato marinara sauce just begging to be poured atop a weeknight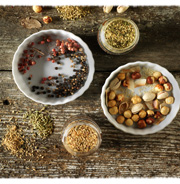 pasta.  In addition, they have the most inspiring, and addicting, line of dukkah spiceblends. We were first introduced to dukkah dipping spices while living in Spain. The restaurant just down the street from our apartment would always present us with olive oil and a delicious concoction of nuts and spices that was, as my English friend liked to call it, "incredibly more-ish" (as in, you just wanted more and more and more and….) Inspired by ancient Egyptian recipes, dukkah is a blend of nuts and spices that makes a most perfect appetizer with fresh bread and olive oil, or makes a lovely addition to a salad, grilled meat, vegetable or pasta. We love keeping it in our spice drawer as it serves as a perfect last minute fix whenever we have company. As always, we love finding something new!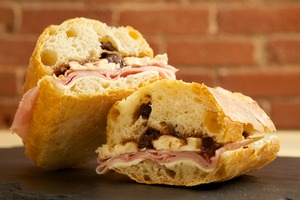 Best of Boulder Voting: Somehow we are in the final week of March, which means we have just a few more days to beg you to vote for us for BEST SANDWICH in the Best of Boulder voting showdown.  If you haven't already, we would so very much appreciate you taking the time to click on this link and select yours truly for the Best Sandwich (#42) in Boulder County . Thank you in advance, it truly means the world to us.
That is all for today my fine friends. Don't forget that we have our Free Tuesday Night Wine Tasting this evening from 4-7 and that Brad will be in the shop at 6 am on Wednesday, whipping up a fresh batch of hand rolled agnolotti, stuffed with sweet potato and chèvre , and topped with brown butter and sage. Thursday night brings us roasted chickens and duck fat mashed potatoes, hot out of the oven at 5:30 and Friday is our FIRST EVER FRESH FISH FRIDAY!! Remember to order your fresh Halibut by 3pm on Thursday.
Enjoy this beautiful last week of March and look forward to seeing you all in the shop soon!
Will,  Coral + Holden
p.s. One of us had a big ol birthday on Sunday and is feeling awfully grown up now that he's 1. We're thinking one more year and he'll be ready to work the register….