CURED: The Easter Edition (Vol. 6 Issue 12)
Good Morning Friends of Cured,
Happy Spring!! We hope you all enjoyed the absolutely beautiful wintery blast that graced us last Thursday and Friday and appreciated the beautiful blue sky, sunshine and sparkling snow of the weekend. It looks like we might have a few more days of snow ahead before spring finally springs and Holden is starting to prep his Sorrels for a snowy Easter Egg hunt on Sunday! Hard to believe that Easter is already upon us, but the one benefit of such an early Easter this year is that we get to gorge on decadent chocolate and beautiful lamb roasts all the sooner. With that in mind, we have a few tasty treats for you this week that we certainly hope you'll enjoy!!

Easter Dinner: I don't know about you all but I am still dreaming about the Irish Soda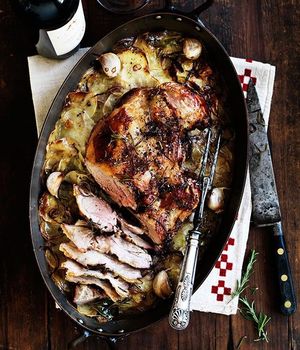 Bread bread pudding that finished off the St. Patrick's day feast last week. I fear we are starting to get spoiled having our chefs make up these delicious dinners each week, but you certainly wont find me complaining! With that, this week we are excited to offer a special "Friday Night Feast" served on a Sunday,featuring an Easter dinner for two. This Sunday, after you spend your day hunting eggs and devouring chocolate, let our chefs feed you a Bacon, Beet and Leek Terrine and a Luscious Slice of Fleur Verte Cheese with House Baguette followed by an Herb Crusted Colorado Lamb Shoulder with a White Wine Pan Sauce. A Warm Asparagus Salad with Stracciatella, Meyer Lemon, Chervil, Pistachio and Fresh Mint and a Potato Galette rounds out your meal and our House Made Ricotta Cake (the perfect foil to chocolate candy eggs) with Strawberry Lemon Curd finishes it off! Dinner for two costs $64 and will be hot out of the oven at 4:30! As always, dinners are selling fast so give us a call today to reserve yours!
Chocolate Easter Bunnies: We all have fond memories of chocolate easter bunnies from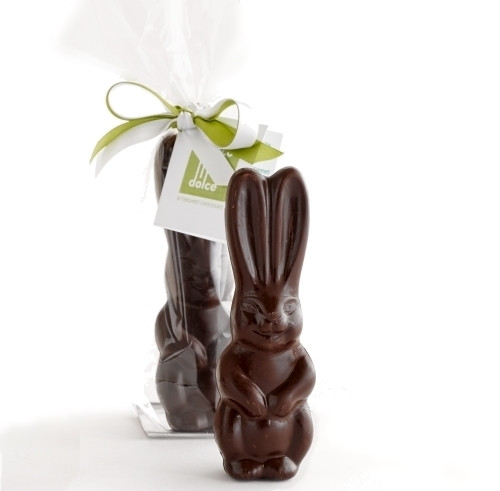 childhood…those slightly too sweet, slightly waxy, hollow bunnies that you can't stop eating but make you feel kind of sick once you finish the last nibble of ear. Lucky for you we have a bit (maybe even more than a bit if we're being honest) of a chocolate obsession and have tasted high and low to find you the very best chocolate Easter Bunnies for Sunday. Many of you are familiar with Poco Dolce from the absolutely addictive chocolate tiles we have sold at Cured since day one. Out of San Francisco, Poco Dolce means 'just a little sweet' and they perfectly balance sweet salty flavors in their perfectly textured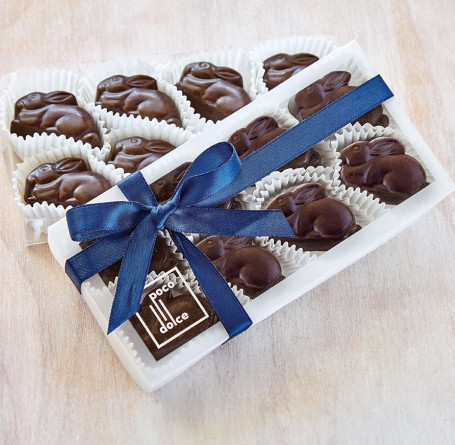 chocolate. We have chocolate bunnies that are almost too cute to eat…almost…and they're made from either peanut butter chocolate which is essentially like a PB-nutella in bunny form or with bittersweet chocolate delicately flecked with white chocolate swirls. We also have boxes of Raspberry Bunnies which are dark chocolate bunny shells filled with a delicious ganache crafted from fresh raspberries and guaranteed to make any kid, or adult, swoon. And as always, we have endless numbers of chocolate bars from geeky single origin line-ups to guiltily indulgent treats that are the perfect addition to any Easter Basket!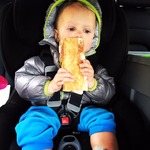 Best of Boulder Voting: We are in our last full week of March which means that there are only a few more days to cast your ballots for the Best of Boulder! We know what an overwhelming list and ballot it is, but we cant help but implore you to take a few moments,click here, and vote for Cured as Best Sandwich in this beautiful town.
As always, we have our Free Tuesday Night Wine Tasting from 4-7 tonight and tomorrow Brad is whipping up fresh, hand-rolled Sweet Potato and Chevre Agnolotti with sage brown butter. Yum!! Thursday night brings us freshly roasted chickens and duck fat mashed potatoes and Sunday is our Easter Dinner Feast! Enjoy this properly tumultuous week of weather and look forward to seeing you all in the shop soon!
Coral + Will
---