CURED: The Easter Edition (Vol. 5 Issue 12)
Good Morning Friends of Cured,
It looks as though spring has officially sprung and it is 100% acceptable (at least in our book) to drink rose all day long and wear as much white as strikes your fancy. Ahh what a blissful time of year it is! As I'm writing this, Will and Holden are quite literally watching buds unfurl on our apple tree, being coaxed open one by one by this beautiful sunshine. It even seems appropriate that this Sunday is Easter and it looks as though we'll be treated to blue skies and sunshine in which to hunt down eggs and indulge in too much chocolate. We're planning on celebrating with an afternoon picnic in the park, and highly recommend you do the same. With that, I'm excited to share the upcoming dinner plans and Easter goodies we have in store for you.

Friday Night Feast: Easter Rabbit Special!! It looks like in between all this beautiful sunshine we have a few chilly days to bring us back to reality in store this Thursday and Friday. We couldn't be happier because it gives us the excuse to cook up a proper feast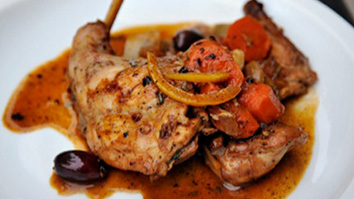 that just begs to be enjoyed on a chilly spring evening. Rebecca will be in the kitchen all day Thursday and Friday, whipping up chevre stuffed roasted red peppers that will be served with warm, drizzled honey. These will be served along side a tomato and Rioja braised Rabbit, a Cure Farm spring greens salad topped with manchego 1605 and hearts of palm. We're even including a ½ loaf of the rosemary lemon crown boule (or ½ a Kim and Jakes GF Baguette) to mop up all the delicious sauce. We're finishing things off with an orange flan served with honey and a dark chocolate ganache. Dinner for two costs $44, is hot out of the oven ready to pick up at 5:30, and promises to be the perfect counterpoint to your porkalicous Easter dinner. As always, reservations fill quickly to give a call today to reserve yours!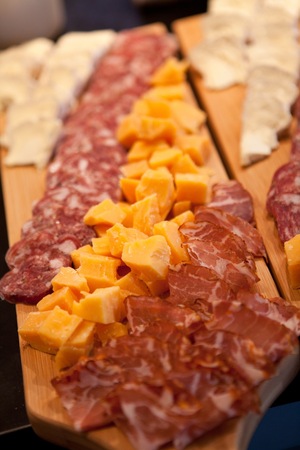 Easter Platters and Picnics: Whether your planning on celebrating Easter gathered around the dinner table with friends and family, or curled up on a picnic blanket in anearby park or your backyard, we've got you covered. We have cheese and charcuterie platters, laden with the finest spring cheeses and cuts of salami just begging to be enjoyed along side a cold bottle of wine. We can custom create a platter for any size and any appetite, just give us a call at the shop, tell us know how many people you'll be celebrating with, and let us do the rest! Or, if you're planning something a bit more intimate, we'd love to craft you a picnic filled with our favorite cheeses, meats, breads, spreads and chocolates, because everyone deserves a little indulgence on Easter Sunday.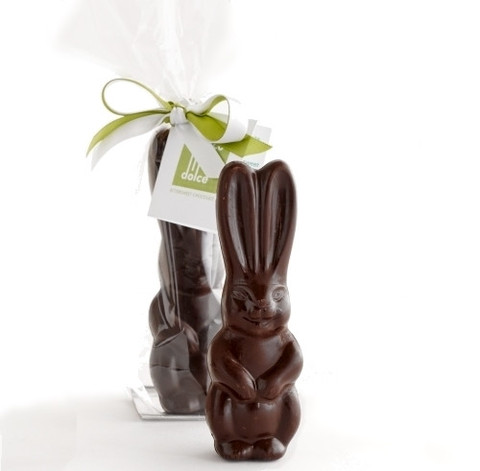 Speaking of indulgence, we've been consulting with the Easter Bunny and our little shop happens to be brimming with the most delectable chocolates and treats, just begging to be tucked inside a lucky someone's basket.  Holden's particularly excited for the Poco Dolce Chocolate Bunnies; they are so good they practically redefine the term "Chocolate Easter Bunny". Add to that a bar or two..or ten…of the finest bean-to-bar craft chocolate, and maybe a chunk of triple crème cheese and jar of fig jam and you've got an Easter Extravaganza on your hands. Pop into the shop any day between now and Sunday and let us help you create the perfect special basket.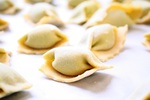 Don't forget that we have a FREE wine tasting tonight from 4-7 featuring the best inexpensive French wines we've tried lately, and Brad is whipping up a fresh batch of hand rolled pasta on Wednesday, agnolotti with sweet potato and chevre, served with a sage brown butter to boot.  Thursday night brings us our weekly roasted chicken with duck fat mashed potatoes,hot out of the oven at 5:30 and Friday is our Easter Rabbit special.  We also have a handful of Tender Belly Spiral Cut Country Hams in the house this week, give us a call and we'll put your name on one!
That's all for today my friends. Enjoy this beautiful sunshine and look forward to seeing you all in the shop soon!
Will and Coral