CURED: The Christmas Eve Edition (Vol 4 Issue 50)
Good Morning Friends of Cured,
Happy Eve of Christmas Eve! We hope you're all surviving the madness of last minute present shopping, airport delays and holiday parties galore. We've been loving it! First and foremost, we want to thank you all for your patience these last weeks. We know sometimes it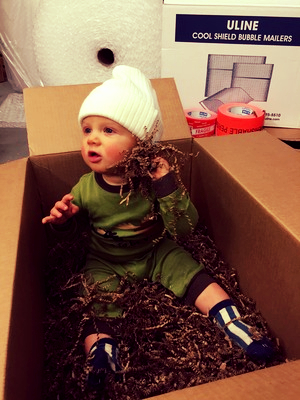 takes us a little while to answer the phones, or that the lines at the cheese counter are a bit longer than usual, but we have been hustling and bustling and you have all been so kind and understanding, we couldn't do it without you. Without you, and Holden that is. Our gift box shipping got so crazy this year, we brought in thebig guns to help us get all your goodies out the door…he was quite the ringer 😉
We just have a few quick reminders for you this morning:
Holiday Hours: We will be open tomorrow, Christmas Eve, from 10:30-4. We are closed on Christmas Day and the day after, but will re-open on Saturday the 27th at 9am. We close on New Year's Eve at 5pm, and will be closed for our annual holiday break until Thursday January 8th when we will open up at 10:30 and be open as usual for the rest of the year. Don't forget about our annual 25% off sale of…EVERYTHIGN… on December 31st.

Christmas Center-Piece Pop Up: We couldn't be more excited to have Will's sister with us today from 3-7, selling her absolutely breathtaking Christmas center pieces.She sent me a sneak peak at some of her arrangements and I can't decide which one…or ten…I want most! She has something for everyone and every table, from $20-100, so pop on by and pick up the final finishing touch for your Christmas dinner
Bread and Platters. Today is the very last day to reserve a platter for tomorrow or a loaf of bread. If you would like us to build you something or set anything aside, please let us know ASAP so we can make sure to accommodate.
That's all for today! Don't forget that it's Tuesday, which means Free Tuesday Night Wine Tasting from 4-7!
Look forward to seeing you all in the shop soon!!
Will + Coral