CURED: Lobster's & Chocolate Edition (Vol. 5 Issue 37)
Good Morning Friends of Cured,
What a hot, beautiful morning it is! Seems as though Summer is giving us its last throes with the epic sunshine and heat of the last few days. A perfect excuse to grab your picnic blanket, find a shady tree, and crack open a bottle of rose! Our latest picnic (which just to happened to fill yesterday's afternoon) featured a number of tantalizing new treats we have at Cured which were simply too good not to share!

NEW CHEESE! Every once in a while we order a wheel of cheese for the shop that we know is either going to be unreal amazing, or absolutely horrible, and we just have to take a gamble on which way it's going to go. Our latest such cheese was Marco Polo Reserve from Beecher's Handmade cheese in Seattle, and we were quite happy to find that it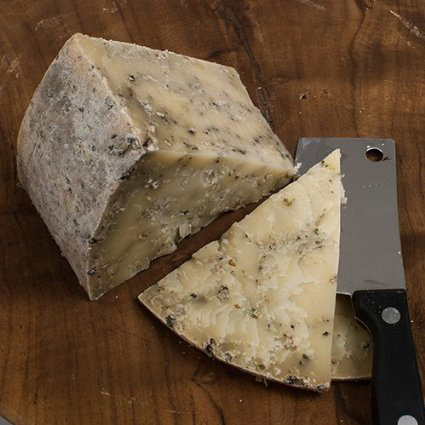 invoked the former, rather than the later response by all of our mongers behind the counter. Beecher's has been making cheese since 2003 in Seattle's famous Pike's Place Market. They make cheese from a single dairy source that is within Washington and free of growth hormones and antibiotics. Beecher's is unique in the  American Artisan Cheese community for a reason – they make excellent cheese in both "commodity" and high end styles. The Marco Polo Reserve is a clothbound, raw-milk cheddar that is studded with green and black peppercorn cheese. Pepper and cheddar?! That's right! It is rich in flavor and texture, buttery, spicy, and dense. It is the perfect addition to Cacio e Pepe pasta dishes, shaved on top of late summer Bona Vida tomatoes, melted into the Cure Farm organic fresh scrambled eggs for breakfast (Holden's current favorite method of consumption), at a barbecue, alongside a football game and a six-pack of beer…. the list goes on.  Lucky for us, and you, the wheels are big ol' beautiful truckles which means we'll have it on our shelf for a few more weeks…until tomato season is over at least!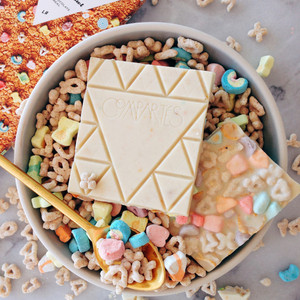 Compartés Chocolate: Last week we geeked out over SOMA, one of the foremost bean-to-bar, single origin, chocolate savants in North America. Their bars are rich, pure, elegant and thought provoking. This week, we're feeling a bit more indulgent, and want to share our newest guilty pleasure to stock the shelves– a fresh new line up of Compartés Chocolate bars!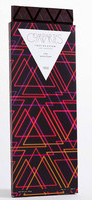 Compartés is one of the hippest, most trendsetting chocolate shops in the US. Founded in 1950 and recently reinvigorated by chocolate prodigy Jonathan Grahm, Compartés organic chocolates are made from scratch by hand every day by a small team of chocolatiers and chocolate artists, using fresh natural ingredients from local (Los Angeles) farmer's markets, and guilty, fun, whimsical sweets and treats. Known for fusing chocolate with art, style, design and fashion, Compartés is a unique chocolate brand unlike any other, creating chocolates that are just as delicious as the stunning visuals they are wrapped up in. I'm not sure whether I'm more addicted to THE NIGHTCAP – dark chocolate with whiskey, THE CEREAL BAR – white chocolate, cornflakes, cereal and marshallows, or THE FOREST FRUITS – single origin dark chocolate with dragon fruit, acai and goji berries. Each bar is as indulgent and inspired as the next, and tasting several side-by-side after dinner is like playing twister for your palate. 
Fresh Fish Friday: LOBSTERS!! AGAIN!!! 🙂 Sorry, we just can't resist. The end to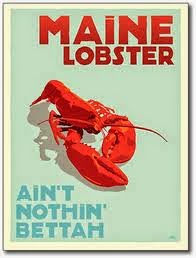 lobster Butternut squash, speck and chevre ravioli season is quickly approaching and we had such an overwhelming response to our last lobster order that we're once again bringing in fresh, live, Maine lobsters before the season winds down for the year. The last batch of Lobsters we got were so dang good, we're not changing a thing, just upping our order! Will's Uncle John and his good friend Troy from Plant's Seafood in Bath, Maine, are on the hook to ship a monstrous box out this way on Thursday, available Friday afternoon at 4.  If you'd like to put your name down for a lobster, two, or ten, give us a shout at the shop.  Lobsters will be in the 1 1/2 pound range, will still be snapping away (at least if you were to take the rubber bands off their claws), and cost $25 each. To ensure we have enough, orders must be placed by Wednesday (tomorrow!) at noon and Lobsters will be shipped our way Thursday and ready for your dinner Friday!  We'll bring in a few extra just to be safe…
A quick reminder that Elizabeth is hosting our Free Tuesday Night Wine Tasting from 4-7 tonight and tomorrow night brings us fresh hand-rolled pasta, butternut squash, speck and chèvre ravioli to be exact! Thursday night we have freshly roasted chickens and duck fat mashed potatoes, hot out of the oven at 5:30, and Friday brings us Fresh, Live, Maine Lobster!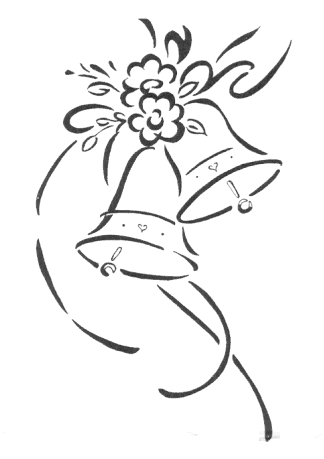 One final note, we're closed this Sunday: There isn't much that will keep us fromselling cheese here at Cured. To date, it has only been major federal holidays, the epic flood 2 years ago, and our own wedding and subsequent honeymoon. Which is why you know that us keeping our doors locked this Sunday means something very special must be a brewin. And indeed it is! Our culinary wizard, Rebecca and her very lucky (and well fed!) fiancé Tashi are tying the knot this Sunday and we're shutting down the shop so our staff can celebrate with them. We couldn't be more excited for them and honored to be able to close for the day and properly shower them with all the love and happiness they deserve!
Thank you in advance for your understanding, we will be open on Saturday and Monday as usual and will hopefully see you all soon!
Coral + Will