CURED: Holy Snow! Edition (Vol. 6 Issue 5)
Good Morning Friends of Cured,
Happy Winter!! It seems as though February decided to cancel January's spring vacation and bring the seasonally appropriate snow and cold we've all been waiting for. Not that we didn't enjoy sneaking out on our bikes and picnicking on a blanket in the sun with rose last week, but there is no denying that it is awfully cozy and feels so right to curl up inside by the fire and pop open a bottle of big, guilty red wine while watching it dump down outside. Plus, there is something about snow on the ground that makes a cozying up inside Cured or enjoying the new seating at West with a grilled cheese sandwich and a bowl of soup so perfectly pleasing and indulgent in all the best ways.
A new month means a new set of dinners and events here at Cured that we're selfishly quite excited for!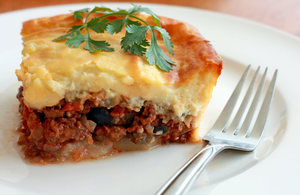 Friday Night Feast!! This Friday, February 5th, our kitchen is whipping up a wam and seasonaly appropriate Lamb and Chickpea Moussaka made with a Harissa and Goat cheese Béchamel. It is served alongside a Warm Whipped Feta with Chorizo, Olives and Cured's House Baguette as well as Roasted Cauliflower with Lemon Tahini Sauce and Capers.A Green Salad with Pepitas, Shaved Parm and Roast Red Pepper Vinaigrette rounds out your meal. Dinner for two costs $52 and will be hot out of the oven at 5:30!
Valentine's Day Dinner Special!! I don't know about you all, but Valentine's Day is always that awkward one…any time you go to a restaurant you inevitably run into 50 of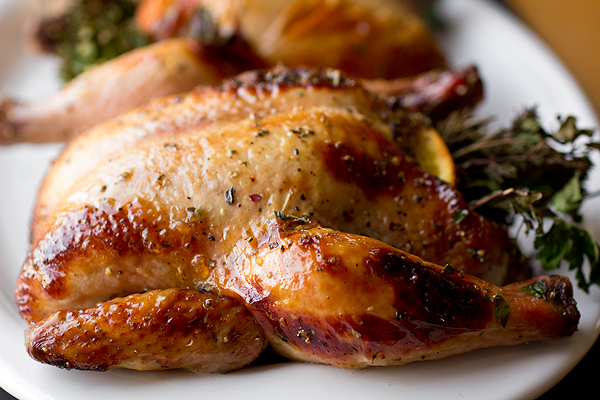 your closest 'friends' and colleagues which means that your evening is spent making small talk rather than actually sharing a meal and connecting with the one you love. On the flip side however, by Sunday night, you've had a long week, a busy weekend, and the last think you feel like doing is facing the grocery store parking lot and spending the day in the kitchen feeling tired and resentful by the time dinner rolls around. Which is where Cured comes into the equation. For Valentine's Day, our chefs are whipping up a special Love Bird feast, perfectly prepared and hot out of the oven right before close at 5 so all you have to do is swoop in, grab your dinner, head on home, pop open a bottle of bubbles, and enjoy an uninterrupted, mellow evening a deux.Dinner costs $95 and includes: Twin Roasted Cornish Game Hens Stuffed with House Made Sausage, served with a salad of Oxford Garden Greens with Roast Beets, Toasted Hazelnuts, House Made Ricotta Salata and Pomegranate Vinaigrette. A luscious slice of Delice de Borgogne (triple creme) with Cured's House Baguette rounds out your meal before you dig into a guilty Mexican Chocolate Pot de Creme to finish it off! Plus we've even included a bottle of the Val de Mer Brut Rose Bubbly with which to toast the one you love.
Reservations for both dinners are already filling quickly so give a call asap to reserve yours today!
Winnimere in the House!!! It's an exciting week for the cheesemongers in our little shop because Winnimere has finally landed and has nestled its ooey gooey beautifully pungent little self firmly in our soft cheese case to stay until supply runs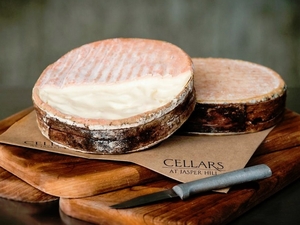 out or Jessica eats them all with a spoon. Many of you likely remember Winnimere from last year, but for those are you who are unfamiliar, Winnimere is a take on Jura Mountain classics like Vacherin Mont d'Or or Försterkäse. In keeping with tradition, this decadent cheese is made only during winter months when Jasper Hill's Ayrshire cows are giving rich, hay-fed raw milk. The wheel is wrapped in a layer of Spruce Cambium (the innermost bark) harvest from the woods of Jasper Hill Farm. This  imparts a beautifully woodsy flavor to the luscious cheese. The brilliant affineurs at Jasper Hill have figured out how to slow down the aging of this cheese so that it is released just after 60 days allowing it to be made with raw milk but sill approved by the silly FDA. #barelylegal. It is one of the softest and most decadent raw milk cheeses to be made in the US. The cheese is be spoonable and tasting of bacon, sweet cream and spruce. It begs to be purchases as a whole wheel so you can simply cut back the top rind and scoop out the luxurious interior. It pairs beautifully with meatier red wines, slightly sweet whites, or a porter style beer. We always have a wheel open to taste and could not encourage you more to come in and try this special treat!
Super Bowl Specials! In less than one week our beloved Broncos face off against the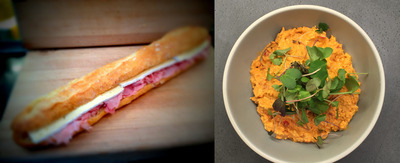 Panthers, which means you have less than 7 days to plan your Sunday snacks. From foot (and a half!) long baguette sandwiches toheaping bowls of pimento cheese dipand big bags of Zapps potato chips to cheese and charcuterie platters laden with orange and blue cheeses and spicy salamis, to icy cold Colorado beer, we've got everything you need to keep you fueled while you jump up and down and scream at the TV. Give us a call at the shop to discus details and place your order for a Sunday pick-up. Also, as an aside, we will be closing at 4 pm on Sunday in honor of the men running around in tights, so don't forget to come in early to pick up your treats!

Thats all for today my friends! Don't forget that Wednesday brings us hand-made fresh pasta, Braised Short Rib Mezzaluna to be exact!Thursday night we have our roasted chickens and duck fat mashed potatoes hot out of the oven at 5:30 and Friday is our warm and indulgent Moussaka feast!  Also, as a heads up, we will be closing the shop at 6 pm tonight so that our employees can make it home safe and sound, or go home and make snowmen with winnimere eyes and a stick of salami for a nose 😉
Be safe, enjoy the beautiful snow out there and look forward to seeing you all in the shop soon!
Coral + Will