CURED: All Things Indulgent Edition (Vol. 5 Issue 18)
Good Morning Friends of Cured,
What a blissfully dry morning it is!! We hope you all managed to stay (at least somewhat) dry, and that those of you who were running your sump pumps nonstop are finally getting a little relief! We want to wish all you mothers a belated happy Mother's Day, and extend another congratulations to all the graduates – what an exciting, and delicious, world you have ahead! Thank you to everybody who had Cured a part of this special weekend, we love being a part of your special occasions.  Speaking of the delicious side, we have a rather indulgent line-up for today's newsletter that we're quite excited to share. So without further ado…
Burger Night! I don't know about you all, but there are few foods that bring us quite as much joy as a damn good burger. Whether simple or extravagant, there is something about the combination of rich, meaty burger sandwiched between the perfect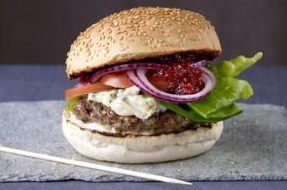 bun, topped with just the right amount of salty, sweet, decadent toppings. It is one of those meals that is sometimes forgotten when speaking of special foods yet when done right, so incredibly, over-the-top, utterly, deliciously pleasing. So for this Friday Night's Feast, we are sharing with you one of our top favorite dinners, the perfectly configured burger. Becca is making up house made burger patties, ready for you to grill up at home, coming with all the fixings: Brioche Buns, Romaine, House Dijon, Brie, Smoked Cheddar, Real Dill Pickle Relish, Caramelized Onion Aioli, and Roast Tomato Spread. Paired with Cured's Spring Green Garlic Potato Salad and Dressed Field Greens to 'balance' out the meal,dinner for two costs $36 (We also have Etalia GF Ciabatta Buns available for an additional $6). As always, dinners tend to sell quickly and Holden's already throwing a mini burger party for all the neighborhood 1 year olds, so give a shout ASAP if you want us to save some for you!
Scarpetta Wine Tasting: Many, well, most of you probably, are familiar with the Scarpetta Wines made by our friends Bobby and Lachlan from just across the street at Frasca Food and Wine.  What started as a project with one wine, a clean, crisp Pinot Grigio, has slowly grown to include a whole family from all across Northern Italy.  After their Pinot Grigio they decided it was time for a red, and partnering with Iuli, a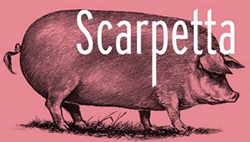 Piedmont house with vines in the perfect part of Monferrato, they made a bright, fresh, Barbera that just yells for pizza or a home made pasta.  Next up came the Timido, a Spumante style sparkler that might be the absolute perfect pairing for a mixed plate of salumi. Then came the desire for a great, truly everyday bottle of wine, one that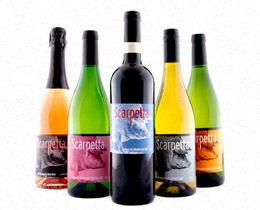 can be bought by the case and stocked for everyday evenings and entertaining to boot.  The Frico Biancois a blend of Chardonnay and Friulano, and when it landed a few monthsago, quickly became one of our best sellers.  The perfect balance between body and brightness, it's a wine that satisfies lovers of just about any style of white. Just last week we finally received the Frico Rosso, the red to match the white that many of you are now familiar with.  It's a blend of Sangiovese and Merlot from Tuscany, and has quickly earned fans.  I can't help but want a pizza from Locale the second I splash the Rosso in my glass, but fortunately, like its Bianco sister, it's incredibly versatile.  Tonight from 4-7 we'll be tasting the core lineup of Scarpetta wines: Frico Bianco, Frico Rosso, Pinot Grigio and Barbera so come on by to give the Scarpetta family a try!
High Points Creamery: As long as we're having burgers and drinking wine, it seems only fitting to round out our indulgent newsletter with out third favorite food group (yes, wine is considered a food group), Ice Cream.  High Points Creamery was started last spring by a husband and wife team who specialize in developing innovative flavor combinations using "from scratch" process and utilizing locally-sourced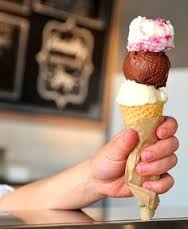 ingredients whenever possible. In the year since they're opened, Food and Wine has named them One of the Country's Coolest New Ice Cream Shops, and Denver Westword just labeled them the Best Ice Cream and Gelato Shop in Denver. About a month ago, Chad stopped by with a half a dozen pints for us to try and oh my god were they good. I am not sure Will and I even took a break to share the pints with our staff as we devoured one after another after another. By the end of the day, I had a bit of a tummy ache, but it was well worth the sacrifice! With the promise of warm weather and summer ahead, we couldn't resist bringing in a freezer to stock these heavenly pints, mostly to feed our own ice cream obsession.  It was hard to narrow down our flavor choices, but after several more taste tests (we're really committed to our job in case you cant tell….) we decided to stock the freezer with 4 of our favorite flavors to start. As of tomorrow, we will have pint upon delicious pint of Basil with Blackberry, Earl Grey with Shortbread, Cookies and Cream (vanilla frosting ice cream with homemade cookies anyone?!) and Tin Cup Whiskey with Pistachio Brittle. Pints cost $9 apiece and flavors will rotate throughout the summer as your truly eat their way though the current stock.
Whew! Feeling hungry yet? Don't forget that we have our Scarpetta Wine Tasting Tonight from 4-7 and that tomorrow is Wednesday, which means fresh, hand-rolled pasta! This week Brad is making upagnolotti with sweet potato, chevre and a sage brown butter. Thursday night brings us freshly roasted organic chickens and duck fat potatoes and Friday Night it's Burger Night!!
Enjoy the sunshine and look forward to seeing you all in the shop soon!
Will and Coral
---