CURED: The Fresh Fish and Rosé Edition (Vol. 5 Issue 15)
Good Afternoon Friends of Cured,
We apologize for the delay in the email. After all that rain when couldn't resist taking advantage of this gorgeous day and snuck out for a long run this morning in the sunshine. We hope you understand and will forgive us. But here it is, better late than never! We have some scrumptious topics in store for you today, so I'll jump right to it…
Fresh Fish Friday!! Perhaps its because of the run that we're already dreaming toward dinner, or perhaps its because the Fresh Fish Fridays have been so incredibly good that we look forward to the next time from the moment we finish our last bite of fish. We went a little inventive and topped last week's halibut cheeks with some of the Chili Lab Chili Butter we sell…something about the delicate spicy, buttery, luscious combination led to us devouring almost 2 pounds of cheeks…We're still dreaming about 

them. Lucky for us, we have something equally as mouthwatering in store for us this Friday! Holden's current favorite food, bar none, is salmon. He likes it poached, seared, sautéed and raw, the more of it the better. So, when we saw Skuna Bay Salmon on the fresh sheet from Seattle Fish Co, we simply couldn't resist. Skuna Bay Salmon are raised in a natural ocean environment off the coast of Vancouver Island in the Nootka Sound. This area is the perfect environment to raise salmon given its glacier-fed waters from the God River, which flow into the Pacific Ocean. Skuna Bay's Craftsman farmers live on the farm 24/7 and work daily to ensure the natural waters stay as pristine as when the farm was first established. Their farmers are wonderful stewards of the ocean; once fish are harvested from a Skuna site, that ocean location is allowed to rest and regenerate before being restocked. 33% of Skuna Bay's farm sites are always in fallow, meaning farmers intentionally sacrifice potential farm use to protect the ocean environment. When ready for harvest, the salmon is selected by one of six approved salmon experts at a small, family owned operation by salmon professionals who have been grading salmon for over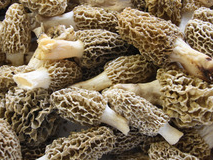 ten years. By using a 14 grade criteria they ensure that only the very best salmon are chosen. The Skuna Bay exclusive process of harvest, hand cleaning, selection and packingby their 6 approved salmon inspectors ensures that only the best 6% of harvest make the Skuna Bay standard. Only the best will do for Mr. Holden 😉  Coming in at $19.5/lb for filet cuts, let us know how much you would like by Thursday at 4 and we'll have it waiting for you Friday afternoon! Plus, since we can't resist pulling out all the stops, we are also offering preorders on morel mushrooms, which just so happen to go perfectly with salmon! $50/lb, just let us know how many you would like and we'll have them waiting for you Friday evening!
Since we have dinner on the mind, Rebecca just sent us the menu for next Friday's Feast and man oh man does it sound good. Herb Crusted Cure Farm Mangalista Pork Roast served with a baguette and a chunk of delicious cheese, Roast Asparagus with Bagna Cauda and a Cured Egg Yolk,  and a salad of Pea Shoots with House Preserved Lemon, Fruition Ricotta and Honey Soaked Walnuts. Um, yes please! Dinner for two costs $48 and will be hot out of the oven Friday May 1st!
When we think about dinner, our brains naturally skip to wine. I'm pretty sure it's a logical extension of our train of thought… A day like today has us excited to spend the afternoon in a park playing bocce with a bottle of rosé in hand and we couldn't have a more perfect selection of rosé to fuel just such an activity. As many of you have realized by now, we LOVE rosé; day, night, summer, winter, any day or time of year will do. However, the prime time to enjoy this most quaffable of beverages is spring and summer, as the grass starts turing green, evenings start staying warm, and the outside just beckons to be enjoyed. Luckily for us the rest of the world agrees with this, which means the first rosés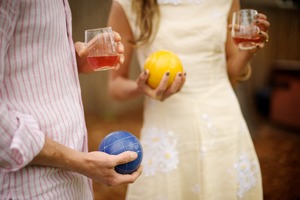 of the season are starting to pour into the shop and we couldn't be more excited to pop them open and enjoy. Sainte-André de Figuière is one of the most quintessential rosé producers from the Côtes de Provence. Their wines are elegant and driven with complex and compelling aromas. Always perfectly pale in color, they are aromatic and find the perfect balance between mineral focus and weighty lusciousness.  We have their Premiere label, as well as its little sister the Magali, both on our shelf now delivering fantastic wine, and unparalleled happiness, at their respective price points.  Keep your eyes open for a few others from them soon.  For something a little closer to home, our good friend, Boulder resident, and Master Sommelier Richard Betts makes "My Essential Rosé", also just on the shelf. Made in Provence in that classic profile, it is a beautiful pale pink and smells like red fruits and flowers. It is crisp, dry, and ultra refreshing. One glass invites another, and another, and a bottle of Richard's rose can quickly become a bottle for one.  As it's a hard one to keep in stock, we just received another shipment of the Arnot Roberts rosé, an utterly unique yet addictingly delicious rose from California. We always have a bottle of this in our fridge and an embarrassing amount seems to somehow 'disappear' from the wine shop. We're pretty sure it's Holden…. The Arnot Roberts rosé is made from touriga nacional, one of the core Portugese grapes in Porto production.  Duncan and Nathan have a parcel in California that they use for their rose and it makes one of the brightest, most structured, food-friendly bottles of rose you've ever imagined.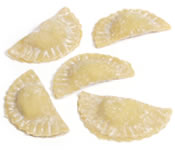 Well my friends, that seems to be all for today! Don't forget that our Tuesday Night Wine Tasting is starting shortly at 4 and that tomorrow Brad will be in at 6am, whipping up a fresh batch of pasta. This week he's making mezzaluna with house made ricotta, artichoke, lemon and spring herbs. Thursday night brings us freshly roasted organic chickens and duck fat mashed potatoes, hot out of the oven and ready to pick up at 5:30!
Enjoy your week and look forward to seeing you all in the shop soon!
Will and Coral